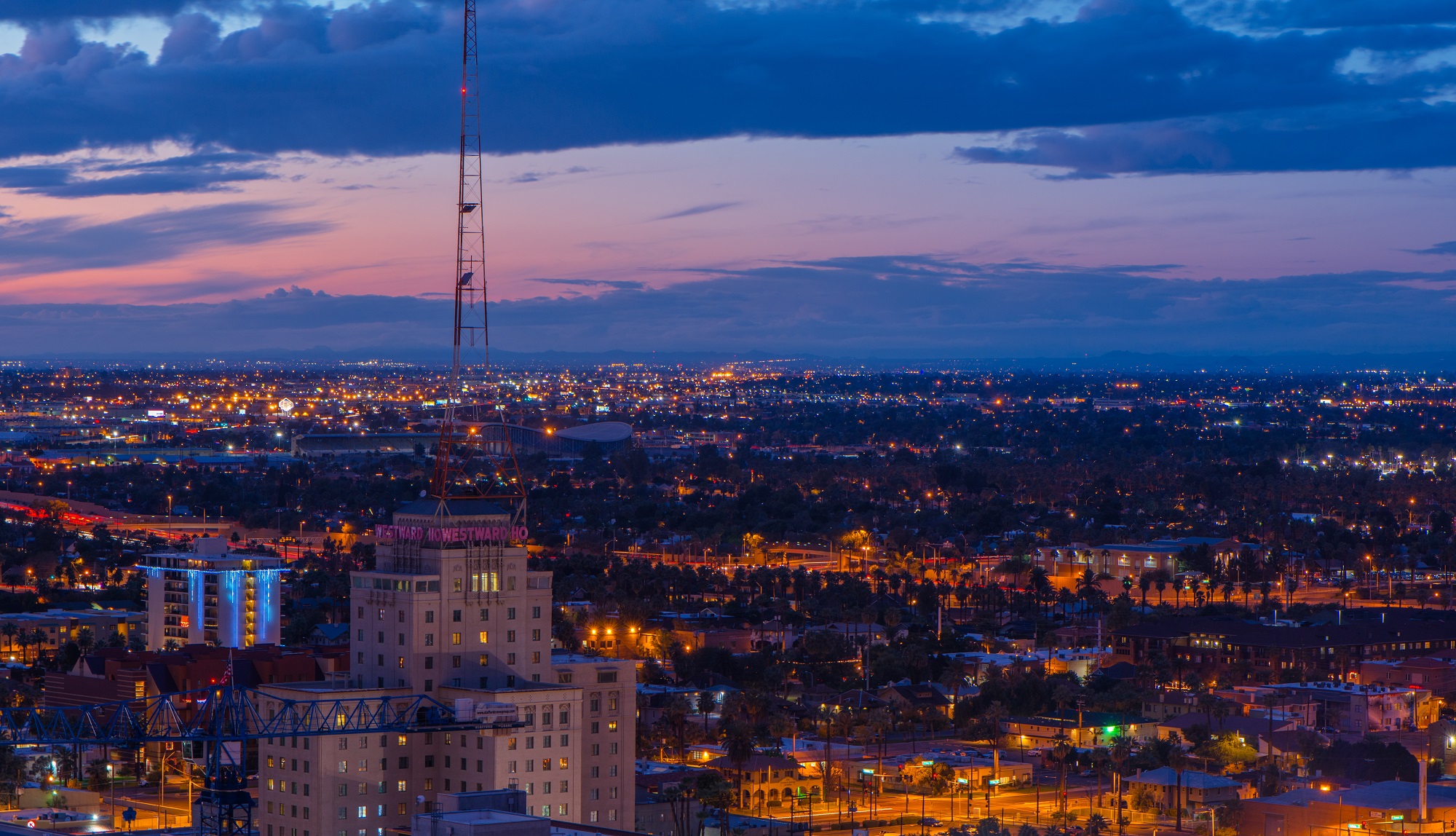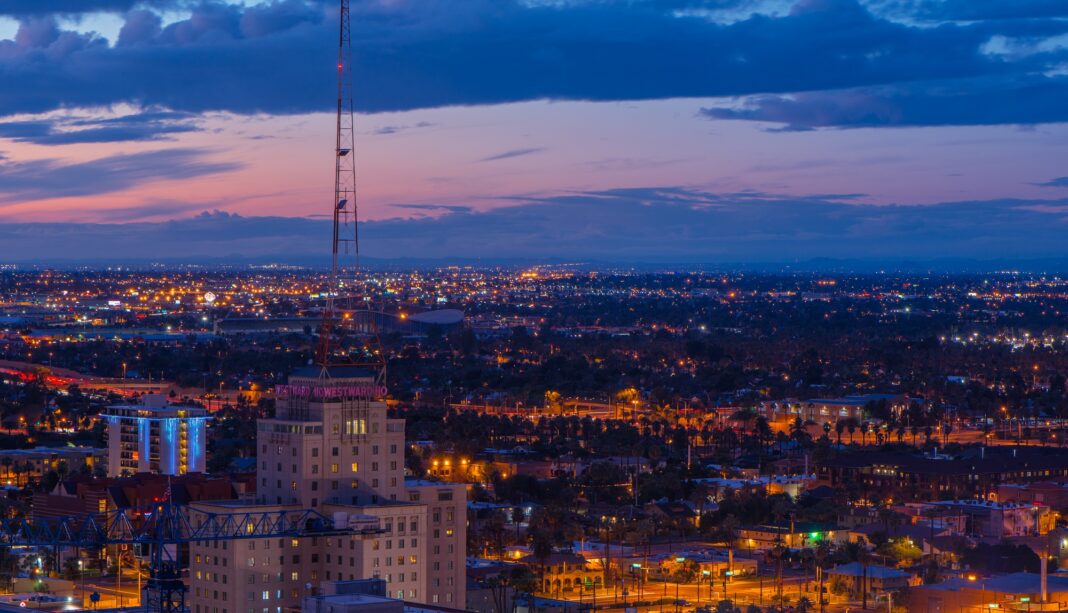 The City
With an average temperature of 75 degrees, more than 300 days of sunshine, and access to the best hiking trails and golf courses, all paired with a low cost of living, it is easy to enjoy a healthy, vibrant lifestyle in Greater Phoenix.
Phoenix and its surrounding suburbs form a region that caters to all, whether the individual is sporty or artsy, an established business professional or an entrepreneur, or a student chasing educational achievement.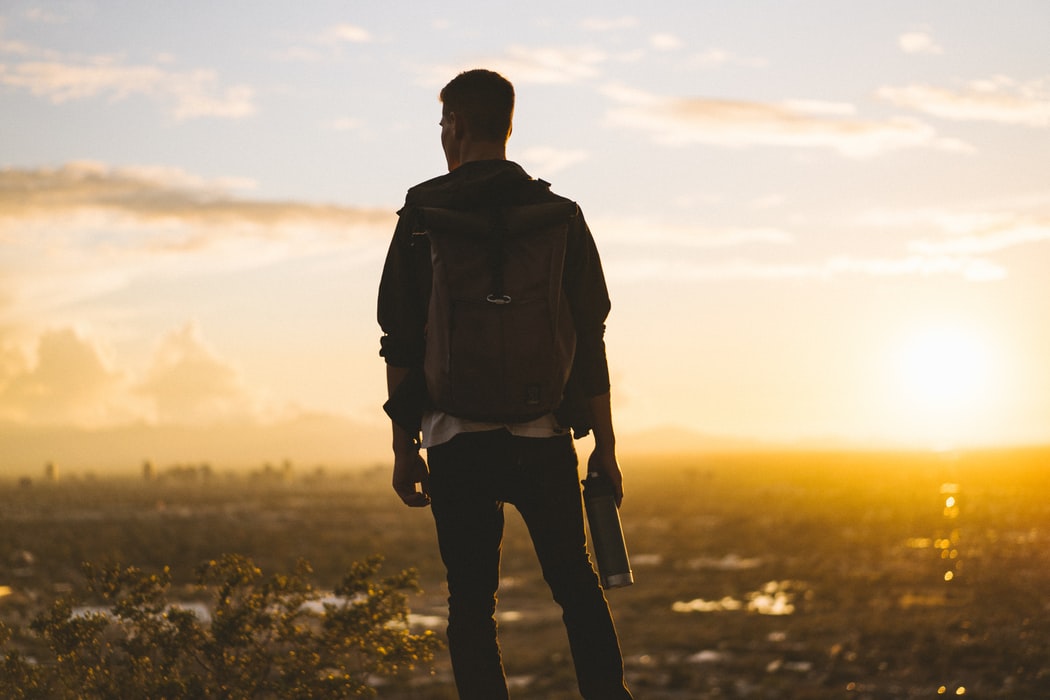 Lifestyle
The region boasts a rich craft and culinary scene, recognized as America's best pizza city by Travel + Leisure, is home to globally exported breweries, unique dining experiences and local farmers markets in nearly every community.
Greater Phoenix is home to seven professional sports teams, including one in each of the four major U.S. leagues, and hosts annual keystone events, including spring training, the Fiesta Bowl and the PGA Tour Waste Management Phoenix Open.
There are 414 trails that makeup 1,502 miles of hiking inside the region, including the nation's largest municipal park that covers more than 30,500 acres. The beauty extends beyond Greater Phoenix throughout the rest of Arizona, where sites like the Grand Canyon, Antelope Canyon and Horseshoe Bend draw tourists from around the world. More than 15 million travellers visit the Arizona National Parks each year. If you're looking to escape the city, within two hours you can go from the valley to the mountains and see the red rocks of Sedona, or camp under the stars on the Mogollon Rim.
The city centre is home to retail, clubs, bars, restaurants, hotels, theatres. The retail offer is a mix of niche fashion, specialist shopping and department stores.
Renowned museums headline the region's art scene. The Heard Museum was ranked the No. 3 Best Museum for American Art in the U.S. It houses one of the world's largest collections of Native American artefacts as well as works by contemporary artists. The Musical Instrument Museum has the largest collection of instruments in the world. Other notable art centres, such as the Phoenix Art Museum and Scottsdale Museum of Contemporary Art, are sprinkled throughout the area.
A world-class symphony, creative event venues, cultural festivals and monthly art walks complement the art centres, museums, music halls, zoos and gardens in suburbs around the region. From galleries to hands-on experiences, there are programs for adults and children alike.
You will find an eclectic mix of cultures and interests in Phoenix with an urban and young vibe. Food, beverage and healthy living seem to permeate most lifestyles here.
Population
Maricopa County, the home of much of Greater Phoenix, had the fastest-growing population in the United States over the last nine years. During this time, Phoenix became the fifth-largest city in the country, and with an average age of 37.2, the region is composed of young, diverse and skilled talent that people want to be a part of.
There are around 1.7 million people living in Phoenix and the metropolitan area has around 4.8 million. The recent annual growth rate has been around 1.5%. Ancestries claimed in the most recent census are 36% Mexican, 42% European (German, English, Irish, Italian, Polish) and 9% Afro-American or native American. The rest were unspecified or mixed-blood heritage. The gender mix is almost equal. There are 555,000 households in the city with 54% homeowners. Just over a million people are adults (166,000 seniors) and around half a million are children. 36% have a first degree or higher qualification.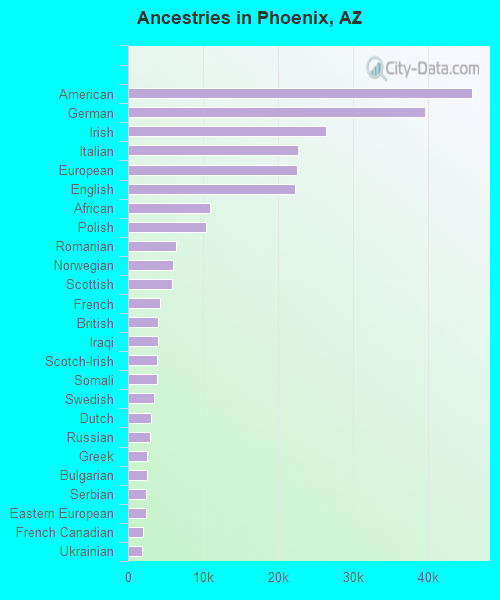 The Economy
With globally influential companies such as TSMC, Intel, Apple and PayPal, Greater Phoenix is a leading market while remaining affordable and preserving its business-friendly operating environment.
The region has been a leader in semiconductors since Motorola opened its Phoenix lab in 1949 followed by Intel establishing headquarters in Chandler in 1980. Proactive, market-enabling legislation in fintech and proptech has allowed the technology sector to soar, and Greater Phoenix is at the forefront of electric and autonomous vehicle R&D and advanced manufacturing sectors.
Professional and Business Services, Healthcare and Social Assistance, Retail Trade, Leisure and Hospitality and Government make up the five largest industries in the region. Some 870,000 people work within the city economy.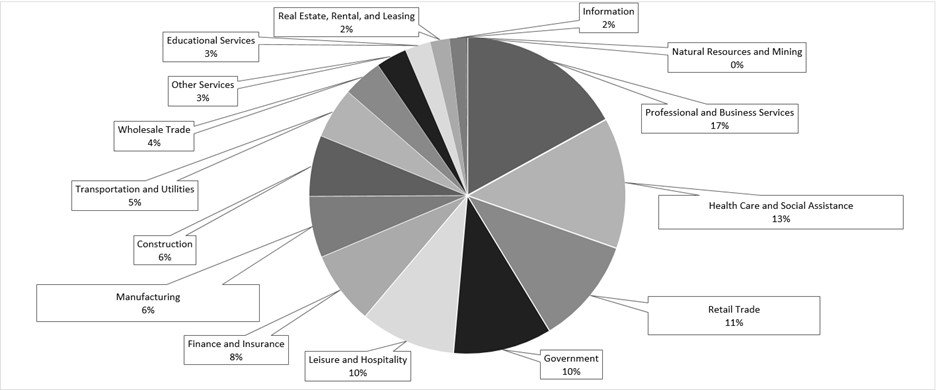 The start-up and expansion scene prospers here with innovation and technology disrupters, science and energy parks and inward investment. Significant growth amongst some start-ups and University graduates has meant that sometimes talent and business move but there is no shortage of renewal and new births.
According to inc.com, Phoenix is ninth in the top fifty cities for start-ups in the USA.
The cost of living is below that of competitor markets in the West including Austin and Dallas in Texas, Denver, Colo., Portland, Ore., and major California cities including San Diego, Los Angeles and San Francisco. It ranges from about $900 a month for a single person (excluding rent) and $3000+ for a family of four (excluding rent or mortgage) – upwards depending upon choices and location.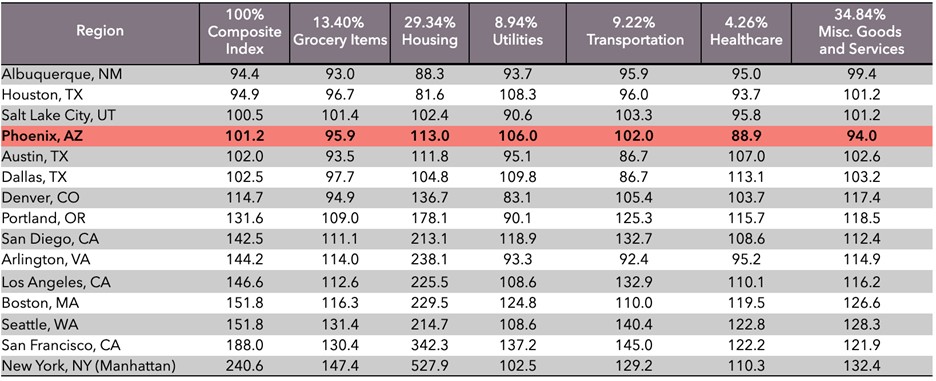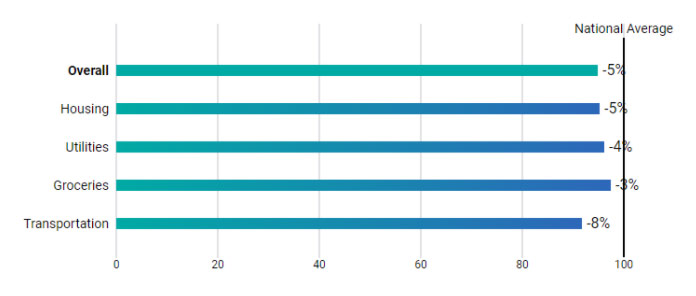 The average home costs around $275,000. Renting a home will cost around $700-2000 for a one-bedroom apartment, $1100-2500 for a two-bed and $1800-5500 for a family size house. Precise location, condition and type of property make all the difference to the cost.
Health insurance in the US is a new cost to many UK staff relocating. It can cost around $800-2,000 for a single person or around $21,000 p.a for a family of four. Employers offer many schemes with employees contributes around 31%. We recommend careful consideration as age, location and employment status can affect the level of premium.
GDP increased every year from 2013-2019, peaking at $237.4 billion, an increase of 3.3% over the prior year. This contributed to a similar rise in real personal income, which saw 5.4% growth in 2019, well above the national average of 3.9% growth. For example, an IT Manager here would earn around $83,000 and an IT Director around $117k a year. An electronics engineer would earn between $71 and 125k. A software developer might earn between $54 and 75k.

Tourist (or business) visas do not permit people to work in the USA. Some other options to consider are;
You will find other useful information about living and working in the USA on the UK Gov website.
Higher Education
Economic success comes on the backbone of a strong and diverse higher education system. Arizona State University, one of the largest universities in the world, has been ranked No. 1 by U.S. News & World report in innovation for six years in a row and is home to the Ira A. Fulton School of Engineering which has nearly 25,000 students and produces nearly 5,000 per year.
The University of Arizona achieved the top rankings in water resources in the country and was No. 19 among all public university recourses expenditures in a U.S. News & World Report study.
Grand Canyon University, a private Christian university based in Phoenix, offers more than 200 academic programs.
Maricopa Community College's 10 schools and two skill centres enrol another 86,000 students, and there is a multitude of specialized universities with focuses ranging from technology to medicine to aviation and aerospace.
Infrastructure
Proactive planning has allowed Arizona to remain ahead of the game when it comes to infrastructure that allows businesses to operate with minimal downtime, water resources and efficient access to bordering states.
From 2015-2020, the state saw only seven hours of major power disturbances. In 2019, Arizona had the second-most reliable power grid in the United States.
The transport hub in Phoenix serves the whole of the metro area and connects with national and international options. The light rail (roadside metro) route stretches from downtown outwards. Accessing the national passenger rail line requires a coach ride to the nearest station outside the county. NSNF has brought freight rail to Phoenix too. Buses are frequent and there are car sharing, bike sharing and various taxi services. Home to work commute is on average around 50 minutes a day. The most common mode is by car – whether self-drive or car share. Around 6% of commuters use walking, cycling and mass transport options.
Phoenix Sky Harbor International Airport reaches 129 domestic and international locations and has more than 1,200 flights per day. The nearby Phoenix-Mesa Gateway Airport is the only one in the country that operates a joint customs inspection station with Mexico. The City government is one of five local government authorities in the airport authority, that also own and manage four other airports close to Phoenix.
Because of the 1980 Groundwater Management Act, the state has the legal and physical infrastructure that maintains a 100-year assured water supply to meet the current and future needs of residents and industry. The state has been prepared for decades and implemented long-term planning and solutions that have resulted in having five times more water stored than used. Currently, Arizona is below 1957 water usage levels and 93% of the water that enters the Greater Phoenix waste stream can be reclaimed and treated for potable use.
With low operating costs, a rich labour pool, low natural disaster risk and established infrastructure, Greater Phoenix is where operations thrive and scale.
Explore how to become one of the 5 million people who call the region home. Visit GPEC.org for more information.
Economic Development
Collaboration and partnerships have matured in both Phoenix and the State of Arizona. There are established links with companies that have been in the area for a long time as well as new starts and inward investors. New initiatives on the frontiers of tech have also involved creating new forums and means of collaboration with larger firms, other tech-led businesses, the universities or colleges or with agencies stimulating innovation and growth.
The main support programmes from the State include;
The City's economic development partnership integrates with State and Federal programmes and offers complimentary, localised and original support. Innovation centres include wearable technologies and now blockchain technology innovations too. Harnessing the connections and assets within and around the City is paramount in the way economic development is practised here. Be that trade with nearby Mexico or facilitating trade flows (goods, services, people, ideas) within the city, across institutional or sectoral boundaries and with the rest of North America and the world. Smart thinking is put into practice here! The YesPh (promoting events and networking) and A-Z Start-ups Foundation are typical examples of bringing entrepreneurial insights to the way economic development is renewed and extended here.
Other Useful Resources
Here are some more resources for your convenience.