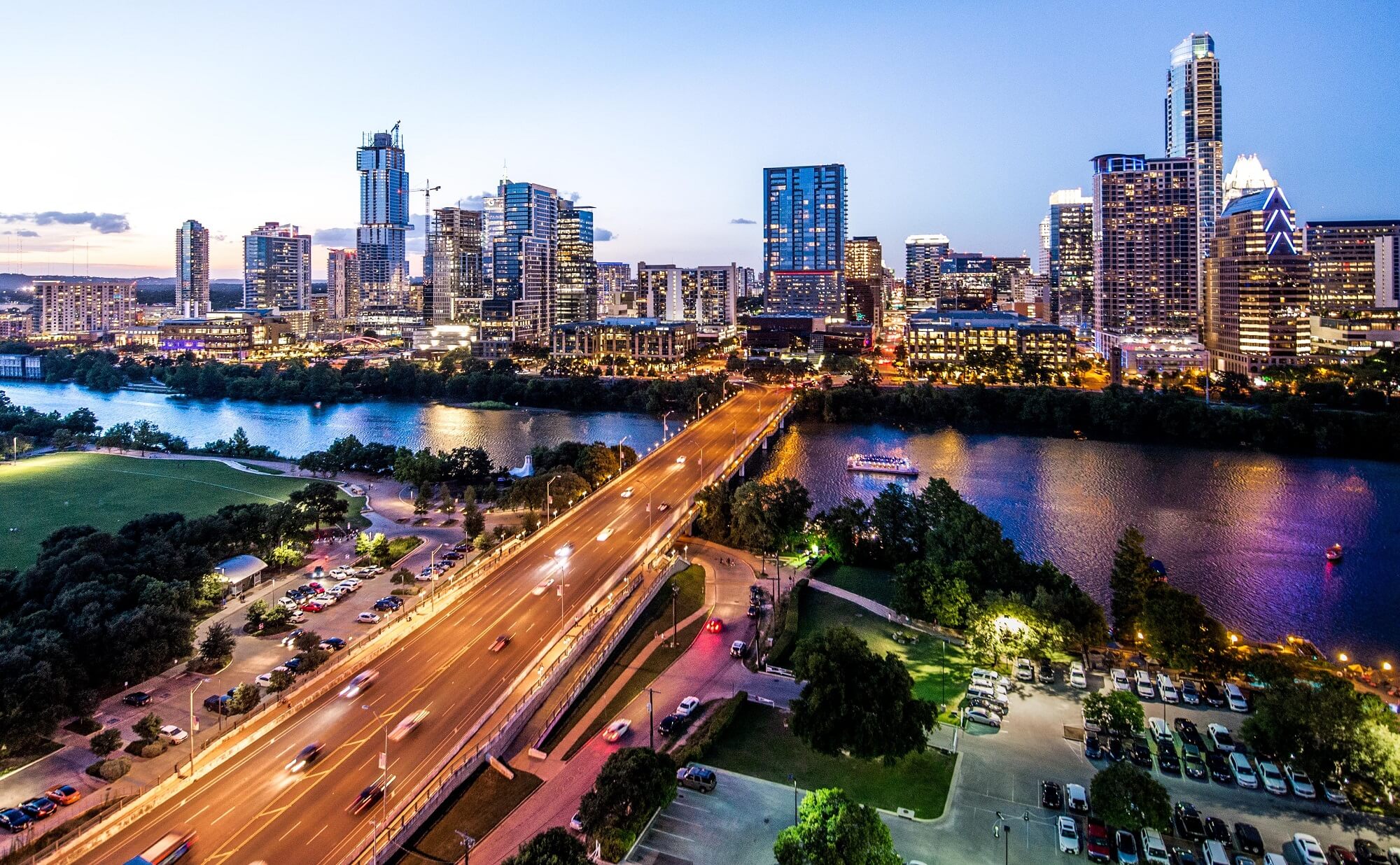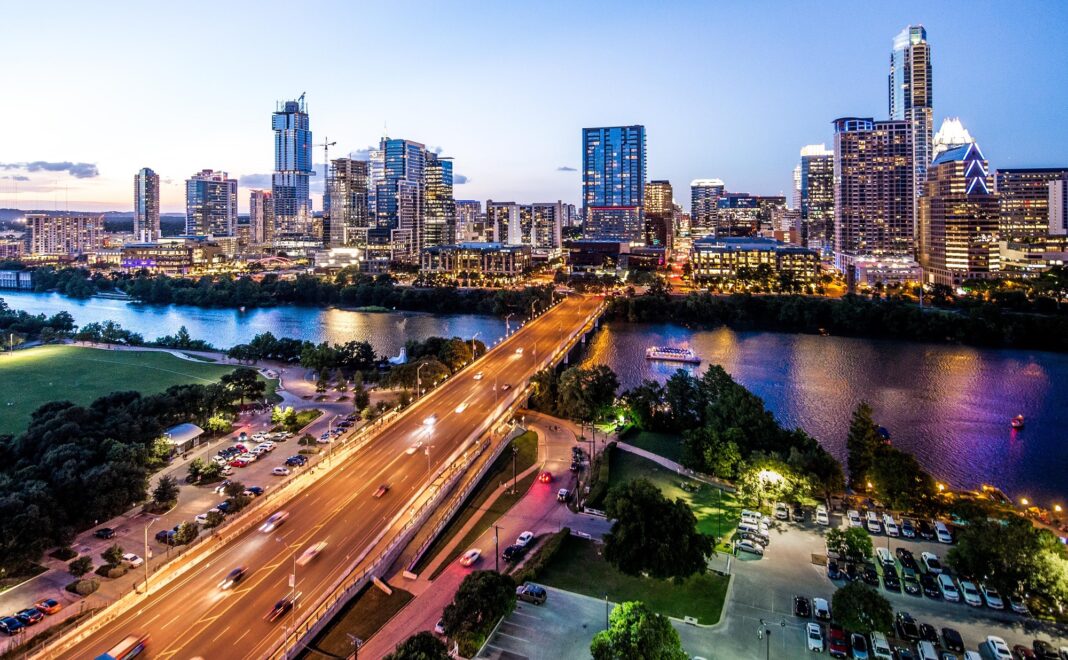 The City
Austin is the capital of Texas, well known for its varied music scene and its 'cowboy' image of the past. Today, it is also known for Formula One motor racing. It is the closest city to that circuit – home to the American Grand Prix. It borders the hill country region of the State.
The city has a variety of parks, well used by walkers, joggers and cyclists. There is also a range of lakes for boating and swimming.
Austin is home to the large campus of Texas University. It has a vibrant nightlife and offers a choice of well-rated food outlets and restaurants. It houses many art galleries, such as the Blanton Museum of Art and Harry Ransom Centre with its world-class library of manuscripts. It extolls a young, hip image. Its international airport features stages for live musical performances! A range of festivals and events take place in the city throughout the year, including bikers' rallies, music and food festivals. The University's baseball team is so commercially successful, that it helps fund academic work there!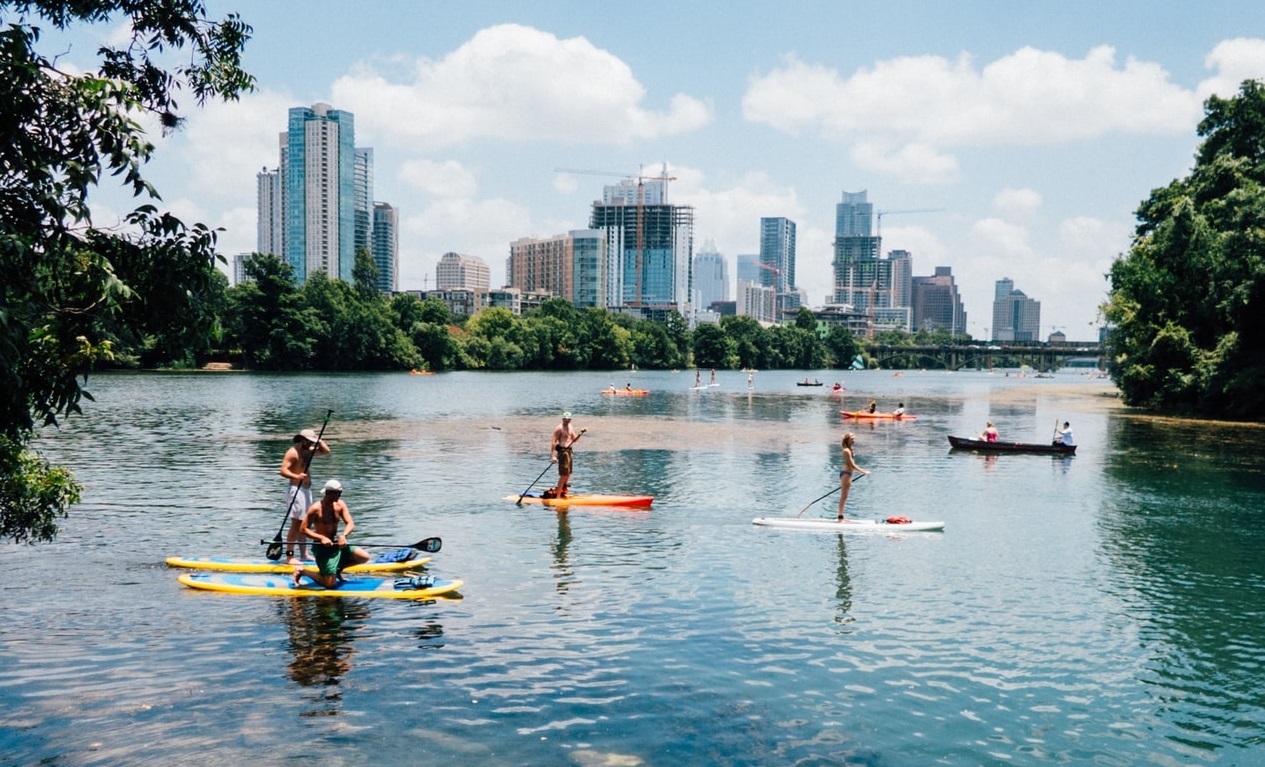 An interesting fact about the city is that around 1.5m Mexican free-tailed bats migrate here. They swarm at dusk from under the Congress Avenue Bridge – a popular tourist 'must see' unique daily spectacle. The Capitol building is a fine example of 19th-century European architecture and its dome is bigger than Washington's! The State's museum of Texas history is a more modern building with a range of interactive exhibits and a 400-seat cinema/theatre. The Zilker Park offers sports grounds and swimming areas as well as botanical gardens, a nature centre and an outdoor theatre on the banks of the Colorado River.
The Economy
The median household income in Austin, TX is $75,413, which is more than the median annual income of $65,712 across the entire United States. This is in comparison to a median income of $71,543 in 2018, which represents a 5.41% annual growth.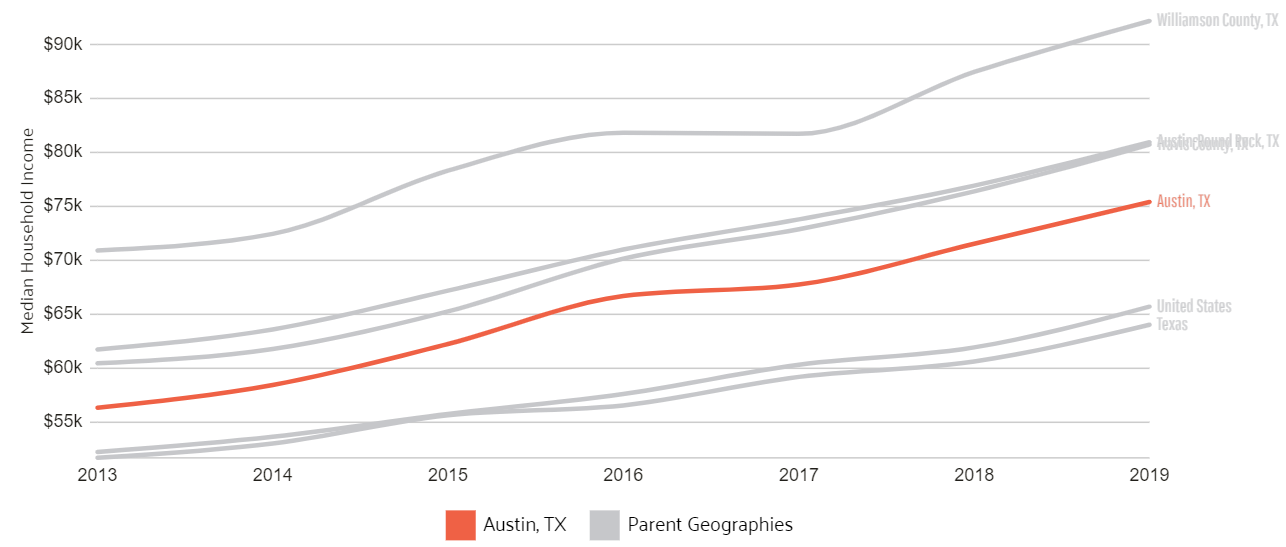 The city has a workforce of 577k, which is 2.24% 1-year growth. The most common job groups, by the number of people living in Austin, TX, are Management Occupations (80,952 people), Office & Administrative Support Occupations (52,193 people), and Sales & Related Occupations (49,862 people).


The most common employment sectors for those who live in Austin, TX, are Professional, Scientific, & Technical Services (95,061 people), Educational Services (60,985 people), and Health Care & Social Assistance (57,727 people).


Large companies with operations in Austin include Dell Inc, 3M, Apple Inc, IBM, Hewlett-Packard, Google, Facebook, AMD, Applied Materials, Cirrus Logic, Cisco Systems, eBay/PayPal, Bioware, Blizzard Entertainment, Hoover's, Intel Corporation, National Instruments, Samsung Group, Silicon Laboratories, Oracle Corporation, Hostgator and United Devices.
The City is number one for the export of transportation equipment. It is also developing smart city technologies to improve the integration of different modes of transport, highway infrastructure and passenger experience.
High tech activities focus on data mining, software development, computer hardware, instrumentation, systems development, clean energy, biotech and fintech.
Among the businesses fuelling growth in technology are Petronus Data Centres, Data Foundry, Digital B, VM Ware, Apple, Oracle, National Instruments, TI and many others (17600 businesses or more now). The University of Texas has the largest computer science programme in the US. Also, several tech firms have moved here in recent years from Silicon Valley. That university also has specialist research and medical education.
Population
The population of the city in 2019 was 979,263 with 1.56% 1-year growth. The population in the five-county Austin metro was estimated at 2,295,303 people as of July 1, 2020, according to U.S. Census Bureau figures. In 2019, the median age of all people in Austin, TX was 33.9. Native-born citizens, with a median age of 32, were generally younger than foreign-born citizens, with a median age of 39.
In 2019, there were 2.01 times more White (Non-Hispanic) residents (478k people) in Austin, TX than any other ethnicity. There were 237k White (Hispanic) and 79.5k Asian (Non-Hispanic) residents, the second and third most common ethnic groups. 32.5% of the people in Austin, TX are Hispanic (318k people).
Lifestyle
Music plays a large part in the lifestyle in this city as does food and festivals. But for many so does sport – from daily jogging to Formula One. Most major spectator sports have a representation in Austin. From baseball adult and junior league, hockey and ice hockey to American football and women's soccer, there is something for everyone. There are several golf courses, tennis centres and clubs. In 2017, a professional rugby union team was established here also. Residents and visitors alike can choose from a wide range of entertainment and leisure activities.
There are 410,000 households in the city. In 2019, 44.4% of the housing units in Austin, TX were occupied by their owner. This percentage declined from the previous year's rate of 44.8% (partly reflecting a large number of students and young adults). In 2019, the median property value in Austin, TX grew to $378,300 from the previous year's value of $365,500.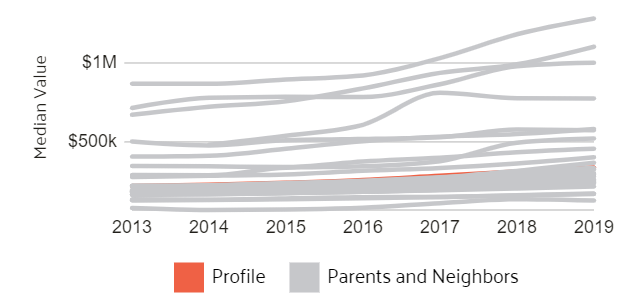 The median rent in Austin, TX is as follows: studio $1,135pcm, two-bed $1,645 pcm and three-bed $2,068. Size, age and location make all the difference to the cost. For a single person, a room in a shared house or apartment could prove attractive.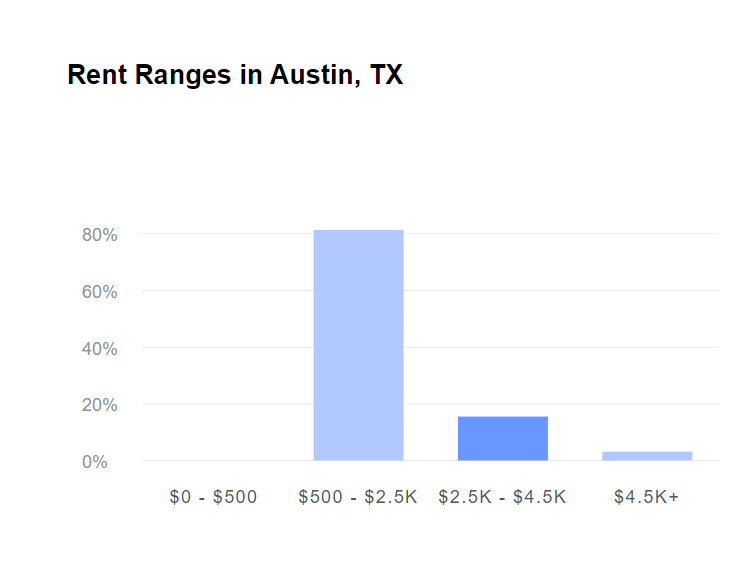 According to Numbeo, a single person should be able to live on $855 a month (ex rent). Whereas, a family of four will need around $3,000 a month (ex property costs). These estimates suggest that someone on average income will manage.
Health insurance in the US is a new cost to many UK staff relocating. It can cost around $800-2,000 for a single person or around $21,000 p.a. for a family of four. Employers offer many schemes with the employee contributing around 31%. We recommend a careful investigation, as age, location and employment status can affect the level of premium charged.
Tourist (or business) visas do not permit people to work in the USA. There are a few options to consider, including an employment-based immigrant visa, a temporary employment visa, a green card for permanent residents or a work authorisation permit. See the UK Gov website for more details. You will find there other useful information to consider if you or your employees are likely to move to the USA.
Education
There are four universities and many colleges in the city – both in the metro area and within the city boundary. The student population is skewed towards women, with 45,811 male students and 60,195 female students. In 2019, universities in Austin, TX awarded 24,983 degrees.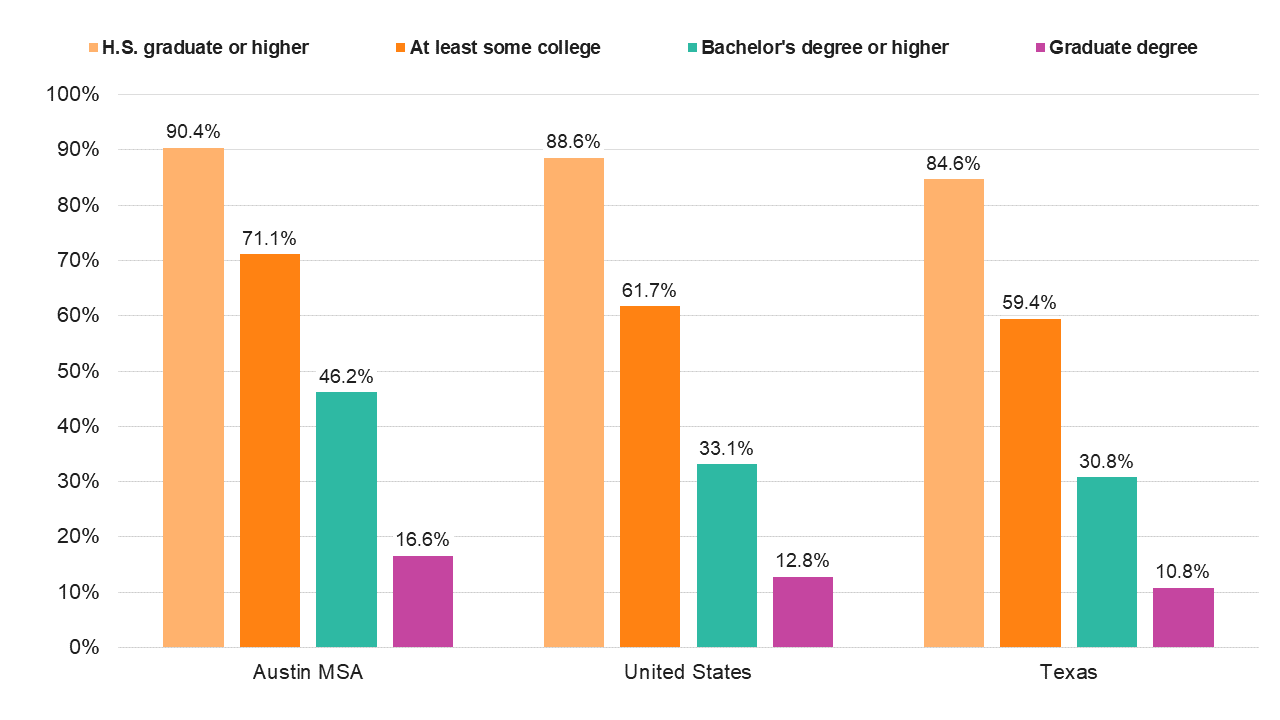 Economic Development
The City Council and the State's departments (property, commerce and economic development) are the main economic development agencies in the city.
Austin and the State have many incentives and support programmes, including renewal of historic areas, development of arts and music as a business sector, partnership programmes, support in advanced systems development and IT, help with export and inward investment, new jobs support, tax credit support and small business development.
Other Useful Resources
Here are some more resources for your convenience.
Austin Relocation Guide