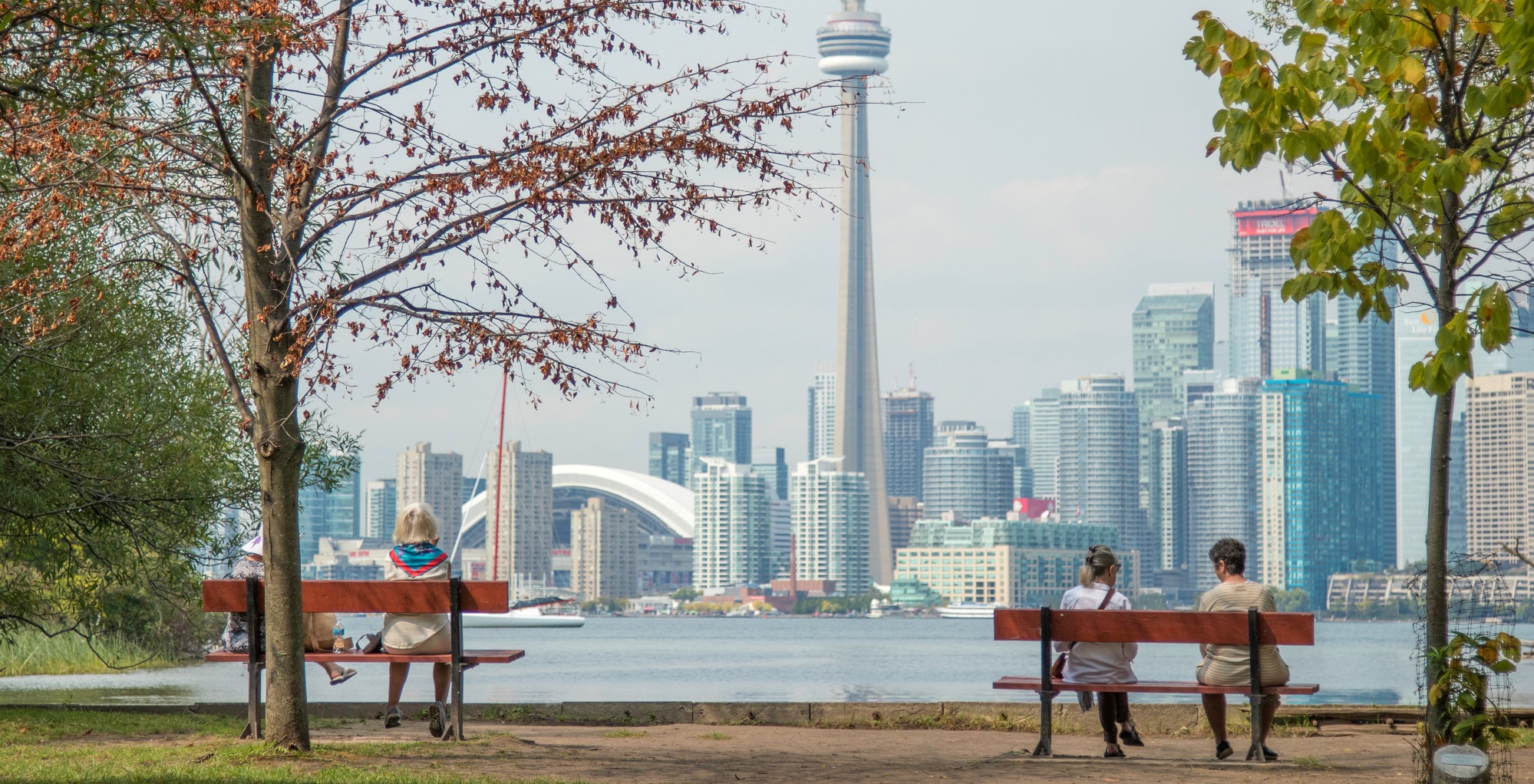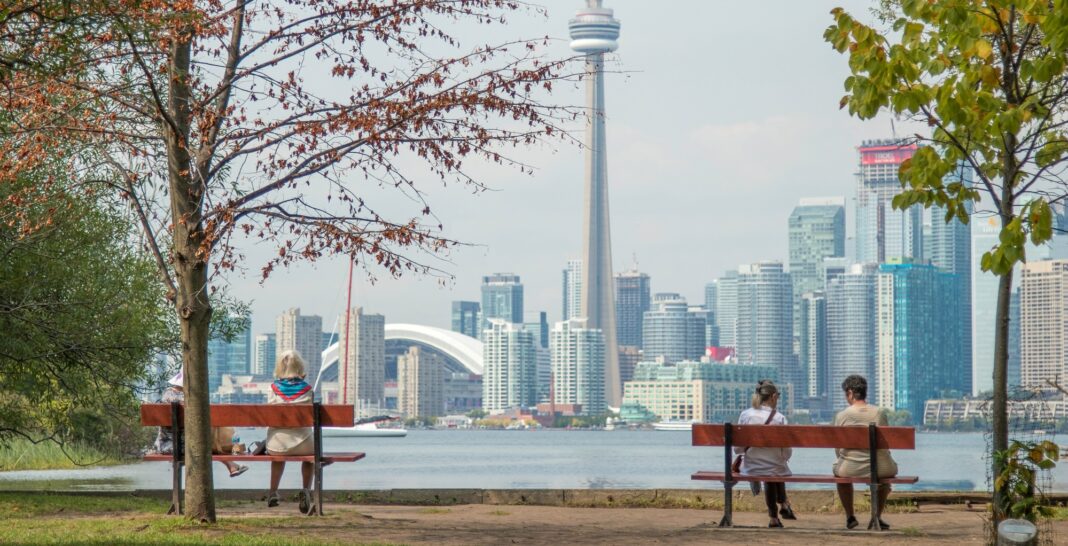 The City
Toronto is the largest city in the province – cosmopolitan, progressive and cultured. In fact, it is the third-largest city in North America after NYC and Los Angeles (fourth-largest if you count Mexico City). It is also the provincial capital, so the government (employment and buildings) are important. The north shore of Lake Ontario forms a natural border and an attractive shoreline character. The city is well known for the CN Tower and the modern skyscrapers that illustrate how the city has grown. There are twelve districts in the metro area.
There are a few highlights that stand out and make Toronto special;
Weather
There is so much to do here and whilst winter weather can be brutal, the city is well-equipped for it with miles of underground walkways and shopping malls (see the PATH system). Just make sure you invest in a quality winter coat and you'll be good to go.
Conversely, summers here are spectacular getting up into the mid-30s, and there's very little rain from June to mid-Oct. Again, the city is well-equipped and the majority of homes and lakeside cottages have air-conditioning and you can always cool off in one of many lakes in and around Toronto. If you'd rather be outside, Toronto has more restaurant patios and rooftop bars than you can shake a stick at. Highlights include Kōst Rooftop Bar and Restaurant, and Lavelle, in the heart of Toronto nightlife on King Street West.
Outdoors
There are city beaches situated along the shoreline and on the nearby islands (accessible by ferry or 5-minute taxi boat), and many people sail their own boats on the lake. There are also nearby ski slopes at Blue Mountain in winter.
The city has many parks and gardens – one of which is the 'Wonderland' amusement, theme and family leisure park north of downtown Toronto.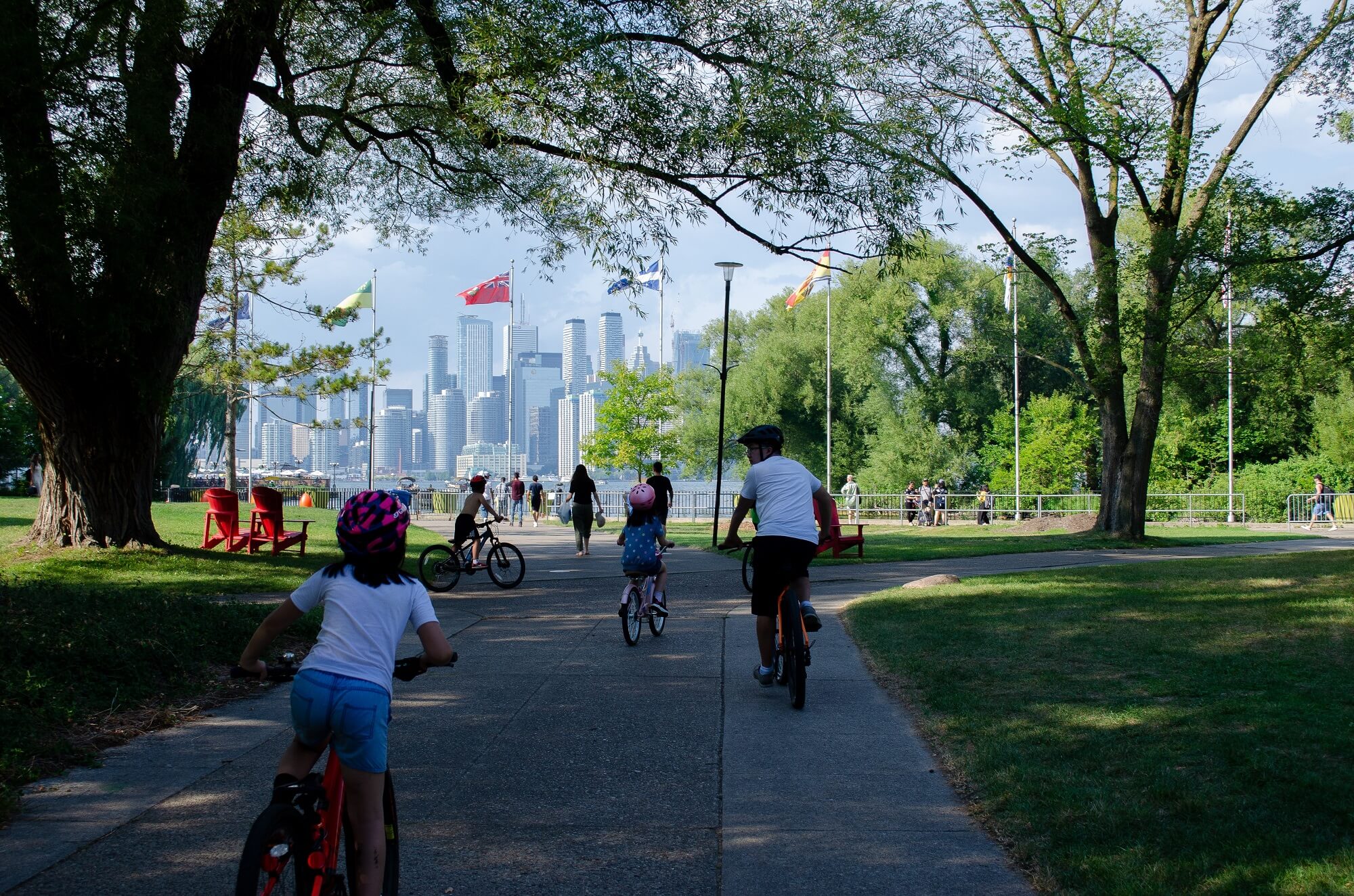 Entertainment
A big plus for the city is its variety of things to do. Lots of live music events, theatre, ballet, comedy, art and festivals for anything and everything you can possibly imagine. Too much to list but major entertainment venues include TIFF Lightbox (home of Toronto International Film Festival), Roy Thomson Hall named after the famous media mogul whose family name lives on in the form of Toronto-based Thomson Reuters.
Other major downtown venues include Massey Hall, Budweiser Stadium, Princess of Wales Theatre, Four Seasons Centre home to the National Ballet of Canada, and a number of smaller jazz and live music bars, such as Cameron House, The Rex, Reservoir Lounge and The Horseshoe Tavern.
There are examples of nineteenth and early twentieth-century architecture, including Annesley Hall, Balmoral Fire Station, Eglington Theatre, Heliconian Hall and many others – not only downtown but in many districts.
The Royal Museum is another famous landmark building. The building itself is an attraction as well as its forty galleries and extensive collections of natural, historical and cultural artefacts. Chinatown is also large, situated in the centre of town, and offers every kind of shop with Chinese gadgetry, fashion, food, antiques, many restaurants, clubs and massage parlours. St Lawrence Hall (built 1850, restored and converted 1967) is a large and diverse marketplace for retail traders, downtown.
The zoo is another feature that tourists and residents alike enjoy. It is the largest in Canada and is structured into seven geo-focussed zones. Another large-scale attraction is the aquarium with its nine showrooms – one of which is like a lake that has a tunnel for viewing.
Further Afield
Be more Canadian and head off to the countless lakes in Muskoka for a long weekend, or even the entire summer season, where you can rent a cottage (called 'cottaging' here). Hunker down, sit around a fire pit or chill out onboard a boat. Don't be fooled, the cottages are not tiny wooden cabins, many are positively palatial.
Get your French fix by dropping into Montreal and Quebec City for the weekend.
The Economy
The workforce of the city is around 1,5m, with 75% full-time and 48% working in offices. There are over 76,000 businesses plus public services and agencies. The main sectors of employment and economic activity are manufacturing, retail, technical & professional services, education, health, government, transport & distribution, technology, warehousing, food processing and service, arts, leisure & entertainment, construction and finance & insurance.
Employment centres are spread across the city with downtown employment growing because of the development of office space here in recent years (like most cities). Shared offices and co-working have grown significantly.
Important companies in Toronto include Canadian Imperial Banking Corp, Scotia Bank, Magna International, Rogers Communications, Bank of Montreal, Toronto Bank, Hudson's Bay, AIG Insurance, Accenture, AccorHotels, Amex of Canada, Arup Canada, AstraZeneca Canada, BASF Canada and Fidelity Canada.
Toronto has become the top-rated city for new technology in Canada and one of the top centres in North America – especially computer systems design (video game tech grew within this field), software publishing, electronic systems repair, data hosting/processing and telecoms. 1729 establishments were identified in 2019 by a special investigation. The clusters are located downtown and some close to communication/transport hubs in other districts. Attracting young talent and collaboration were key factors affecting the location. We would describe these as focused on gaming, fintech, HealthTech/life sciences, education tech, IoT, AI/blockchain and big data analytics.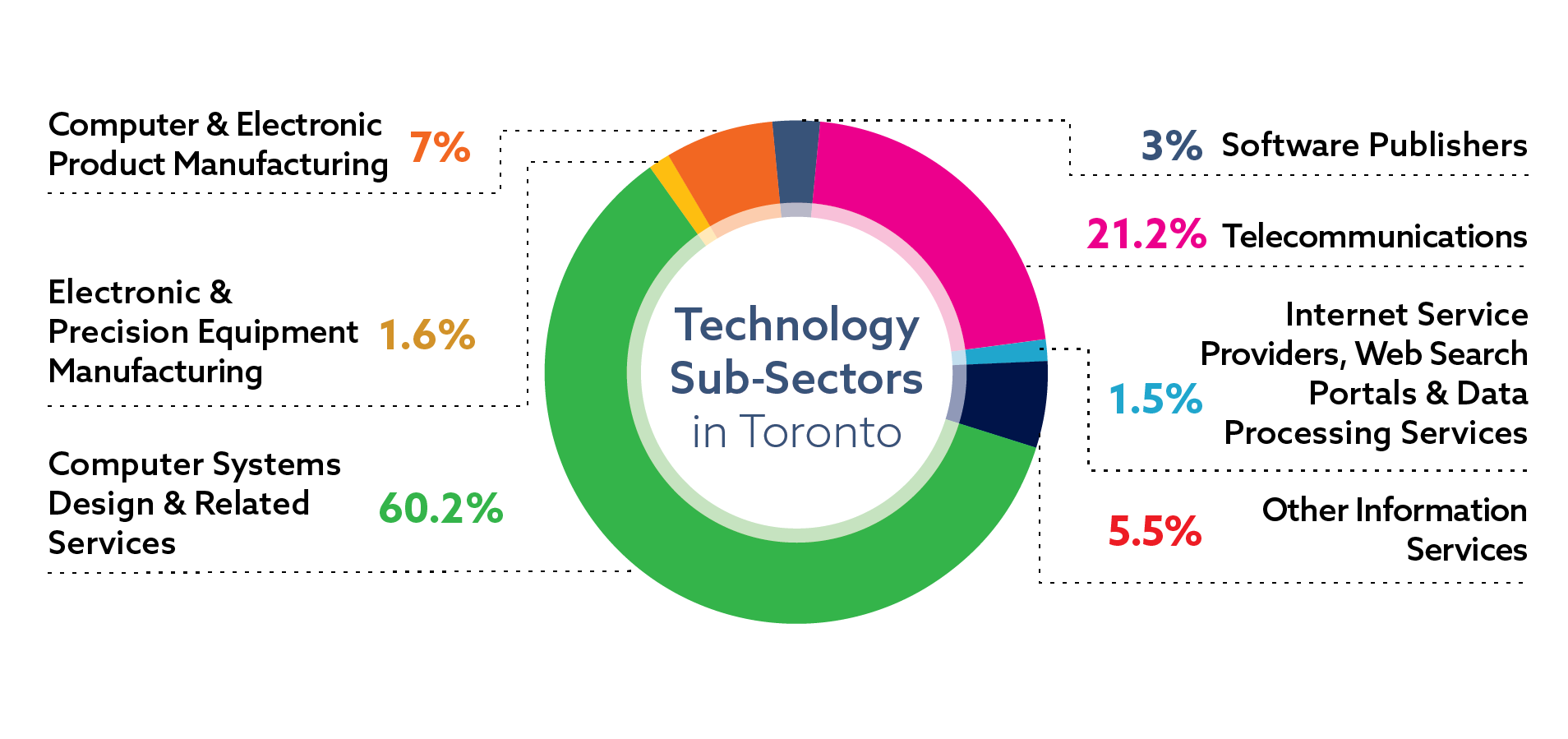 Companies of note in these spheres include Top Hat (education), Ecobee (temperature control instruments), Shopify, Ubisoft, Cisco Systems, Oracle Corp, Geotab (GPS tracking), Askuity (retail analytics), Achievers (employee incentive systems), TradeRev (car sales and appraisal), Flipp (advertising tracking), BiblioCommons (library SaaS), TribalScale (design solutions), Jonah Group (enterprise solutions) and Softchoice (managed IT solutions and services).
The median salary here is $174,000 but 50% of workers earn less than that average. Experience in the role is a primary factor in career/earning progression. An IT Manager here would earn around $88,000 after a year or two. An experienced software developer would earn around $84,000 and a software manager or director around $140,000 – $180,000.
There are four universities in Toronto – York, Uni of Toronto, Ryerson and Ontario College of Art & Design University. There are also four significant colleges – George Brown, Humber, Centenial and Seneca (tech). The Colleges offer professional, technical and vocational degree and diploma courses as well as various trade and technical programmes. Between these institutions and in partnership with companies, there are 128 research centres in Toronto.
The city has enlightened and well-informed modern policies that sustain an attractive and vibrant place to live, work and visit.
For most up to date visa information, check out the UK Government website.
Population
The city itself has some 3 million residents and the greater Toronto area has around 6.2 million people. Beyond that, the 'golden horseshoe' – the western urban fringe of Lake Ontario – accommodates over 9m people.
The city of Toronto attracts more migrants than any other Canadian city with around 50% of people reported speaking English as their second language. There are some 200 ethnic groups and 160 languages and dialects spoken here even though English is the main language used.
50% of the population are white and there is a large south-east Asian population (25%). At the last census (2016), 48% were foreign-born. The average age at the last census was 41.
The diversity of the city also impacts food choices. There are a number of well-established communities in neighbourhoods such as the multiple Chinatowns, Little Italy, Little India, Greektown, Koreatown, Little Jamaica and Little Portugal.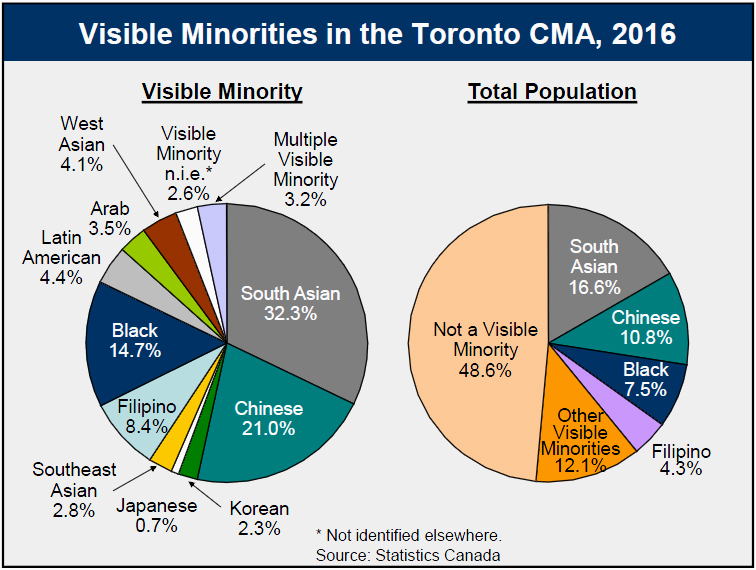 Lifestyle
It is not really the case that Toronto exhibits a uniform North American or even Canadian lifestyle. This is primarily because of the diverse cultures in this city. However, Canadians are outdoorsy people and passionate about sports (watching and playing). Ice Hockey is huge, The Raptors won the NBA a couple of years ago, baseball is massive. All major sports arenas are situated in the heart of downtown which impacts the city's atmosphere. Major sports venues include Scotiabank Arena, Rogers Stadium, BMO Stadium.
Local sports teams include Maple Leafs (ice hockey), Raptors (basketball), Blue Jays (baseball), Toronto FC, Wolf Pack (Rugby League), Toronto Arrows (Rugby Union).
"high culture" is also present here, from theatre and orchestral music to opera – at the classically designed Opera House, the School of Atelier Ballet and performances. There are poetry readings and spoken words gigs and workshops too.
Yet in the ethnic neighbourhoods, Italian, Greek, Korean, Jamaican or Asian dance, drama and music are to be found as well or instead. For example, traditional Chinese weddings, tea ceremonies and Chinese New Year celebrations can be experienced here. Similarly, Greek dance and other cultural heritage are promoted by the Thessalonikians Society of Toronto Inc. Plus, there are several top Greek restaurants eateries and bars. Italian or Korean or Japanese cultural interests can also be explored here.
The median household income is around $98,000 in the city. There are some 680,000 homes in the city itself and 1.3m in the metro area. Per capita income in 2018 was $47.6k. Some 480,000 households rent their home. Typical rents are $1264pcm for a two-bedroom home, around $960pcm for a single bedroom apartment and $1,800-3000pcm for a three-bedroom family home. A family home is likely to cost between $650,000 and $2m or more.
Mortgage costs are likely to be around $3650 a month, depending upon the terms and type of mortgage, for a $650k home. Taxes at purchase are also likely to be around $19,000 with a deposit of 10%. All this probably means a family income of around $130-160,000 a year will be needed. A good salary is regarded as around $80-110,000.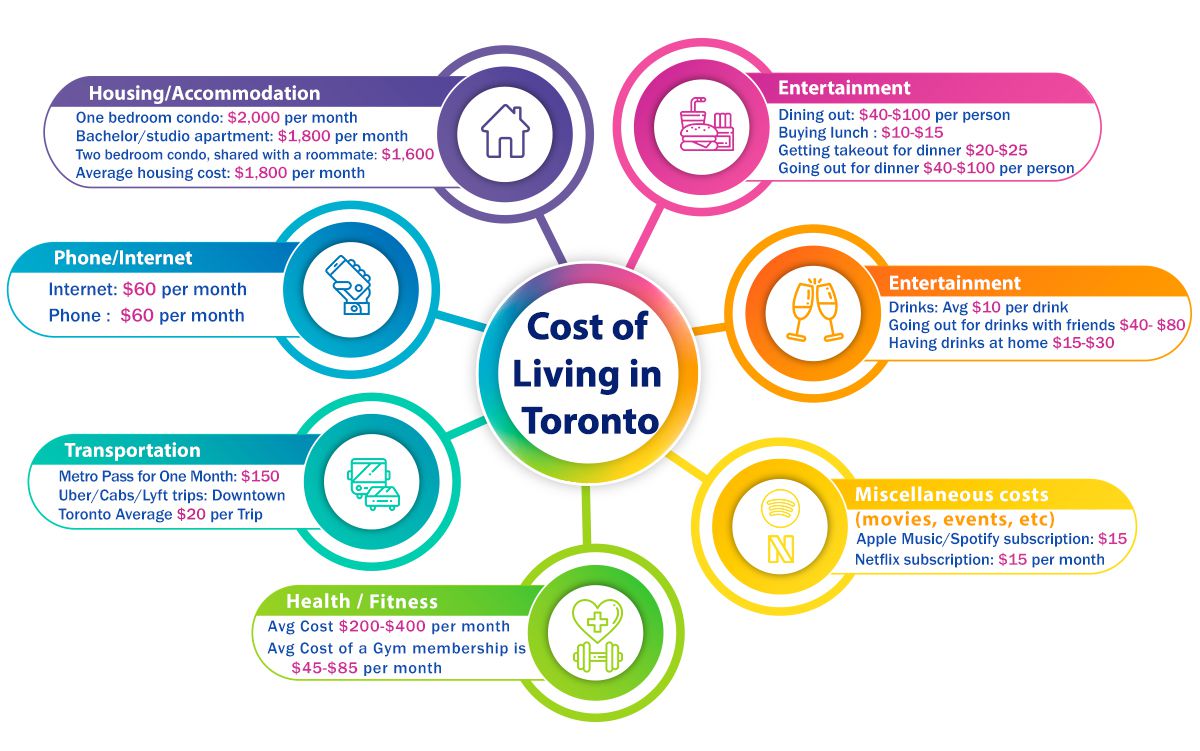 Check out this blog for some idea of typical low-end budgets (in 2017).
Ontario's Health Insurance Plan (O.H.I.P.) provides Ontario residents with very basic medical services and emergency health care, free-of-charge. As a resident of "the big city", your Toronto health coverage automatically includes medically essential services provided by a physician or performed in a hospital. Private health insurance is likely to cost around $3-600 per month. Some employers offer contributory schemes for staff.
Transport
The transport hub, which centres in Toronto, connects people and goods to all other parts of Canada, the USA and the world. Local trams and light rail, the subway system, busses, coaches and mainline trains all figure in the transportation networks. The road system is based on a grid system but some streets are more like British streets than the US. The average commuting time was just over an hour a day at the last census. Using public transport can take longer depending on the distance. Streetcars run on rails in the main roads (as opposed to dedicated tracks separated from vehicles) and that can add to congestion downtown.
The international airport is within the metro area too. Billy Bishop Airport provides super-easy access for city breaks to NYC, Boston and Chicago. It provides services to major city hubs in the US and Canada, plus super quick 12-minute flights across Lake Ontario to wine country in Niagara and the famous Falls. Also, check out direct flights from downtown Toronto for a cheeky ski trip to Mont Tremblant (winter months only).
Economic Development
A large city economic development and cultural services team operate in several departments and with localised offices. The main teams focus on business growth in technology-led companies, start-ups, inward investment/relocation, and sector development and support (aerospace, education, fashion, food tech, green tech, life sciences, film/broadcast/internet V/TV, tourism, museums & heritage, entrepreneurship, business improvement areas and arts/cultural services).
Business and Start-up support include location assistance, international trade services, partnering assistance and introductions, business incentives, grants and tax incentives, licensing, training incentives and guides to start in Toronto.
The start-up ecosystem in Toronto is the most well developed in Canada. The health sciences cluster brings in $1b in research funding and employs around 40,000 people. International trade support reaches out within the Commonwealth as well as elsewhere in the world.
The Provincial Government also works in this area with national and international connections and support programmes – The Ministry for Economic Development Job Creation and Trade lead for Ontario. Hiring staff assistance is one of several spheres of support to businesses and community groups. A small business enterprise centre is the one-stop shop that integrates with others in the province and guides start-ups and immigrant businesspeople. Attracting investment and relocations to Ontario and worldwide trade is another sphere where the Province and local economic development strategy meet to promote competitiveness, sustainability and world-class aspiration.
Fast-tracking for immigrant talent has been important to Ontario and Toronto through a provincial specialist service. Canada has a progressive policy to attract overseas talent.
12 Hours in Toronto
If you're planning a business trip to North America, whether that's New York, Boston, Philadelphia, Chicago or Washington, have you considered a short flight or rail journey across the border to the cosmopolitan city of Toronto? Lisa Harding from XtraBandwidth, a Canada-based specialist providing expertise and knowledge to help businesses expand internationally into or out of Canada, shared with us their insight on what to do in Toronto if you have a day to two in the City.
Nestled on the shores of Lake Ontario, with its beach Harbourfront, Toronto incorporates the benefits of big-city culture with a distinctly relaxed Canadian feel. Due to the varied mix of nationalities, the city boasts excellent world cuisine with contemporary, luxury and boutique-style hotels and restaurants across the city centre, many with rooftop bars looking out over the impressive skyline, such as Kost at Bisha Hotel or Harriet's Rooftop at 1 Hotel.
To get a feel for the city when you're on a whistlestop tour, there's no better way than taking a 90 minute Toronto Tall Ship Cruise sailing on the magnificent Schooner Kajama, or if you'd rather have a more personalised experience, then it's worth embarking on a TikiTaki tour around the Harbourfront and Toronto islands where no two tours are ever the same. If you then want to go off and explore, it's really easy to find your way around by the city's comprehensive public transport system, whether by bus, tram or train.
Amidst the growing skyline, the city's rich heritage is still visible with many historic buildings being converted into new creative hubs, such as the Distillery District with its bustling mix of art, shopping, entertainment and dining including the authentic Mexican restaurant El Catrin.
But if you want to grab something unique before you leave, a visit to Queen Street West is a must. Known as the hippest shopping district in North America, with the longest streetcar route in the world, Queen Street West combines design and fashion boutiques, vintage shops, art galleries, quirky bars and stylish restaurants with plenty of patio dining.
And if you like what you see and fancy a trip back with your family, Toronto has plenty to offer from museums such as the Royal Ontario Museum, galleries including Art Gallery Ontario, zoo and aquarium, amusement parks like Canada's Wonderland, to name but a few family-friendly attractions.
Finally, it would be remiss to visit Toronto and not make the journey to Niagara Falls, as everyone knows the best view is from the Canadian side. And on your way back to the city, don't miss Niagara on the Lake, a charming town steeped in 19th Century Victorian heritage, and also within easy reach of Niagara's Twenty Valley wine country.
Other Useful Resources
Here are some more resources for your convenience.
Toronto Employment Survey 2019
Best artificial intelligence companies in Toronto