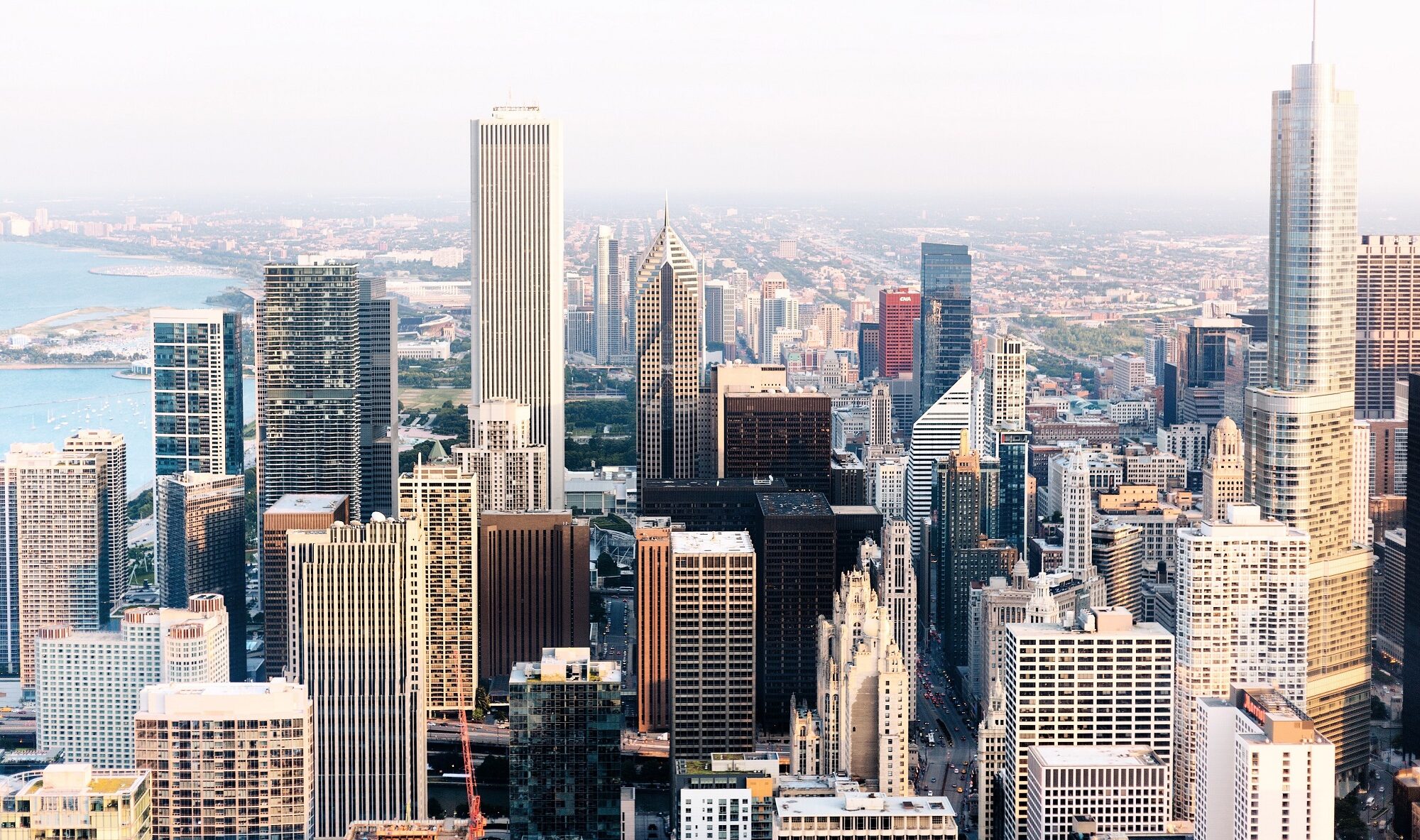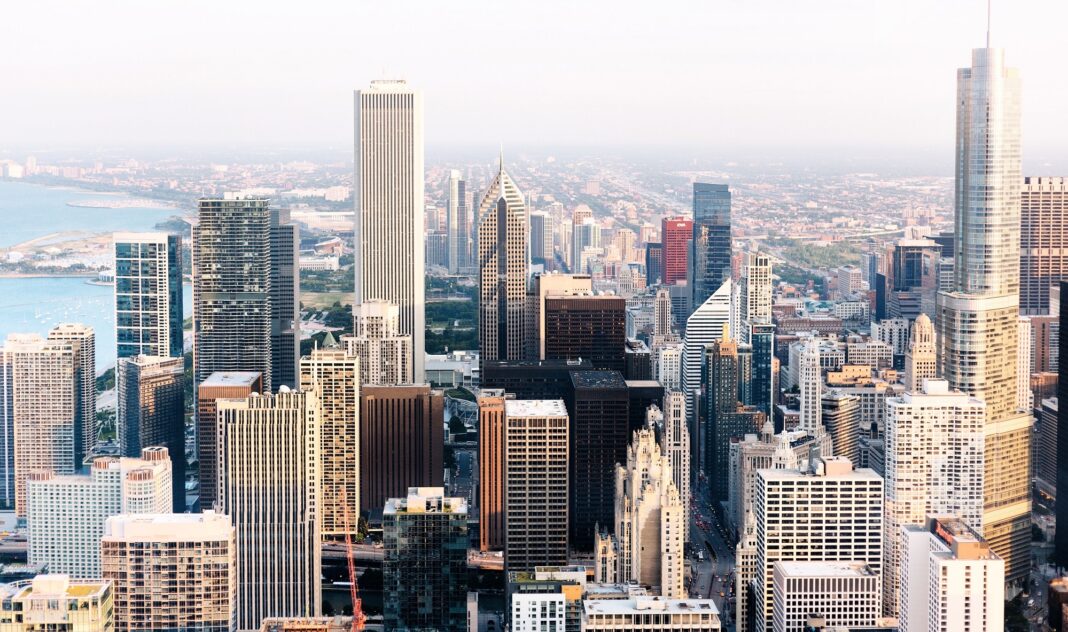 The City
Chicago is the US' only non-coastal cosmopolitan city. There are over 150 Foreign Consulates in the city. It is home to one of the world's greatest symphony orchestras and the Art Institute holds more French impressionist art than any single museum in the
world. It is a city of innovation and is totally world-class. The history of the city has been influenced significantly by its transportation connections with the rest of the US – first with waterborne cargo (rivers and canals connecting Lake Michigan, the City and the Great Lakes to the Mississippi) and shortly after by the railroads and then major highways and air transport.
The city boasts a large and diverse culture, settlement patterns and architecture from classical nineteenth-century styles to very modern skyscrapers. Indeed, the world's first skyscraper was built in Chicago and for decades, Chicago was the home of the world's
tallest building, most recently the Sears Tower. Architectural heritage is still important, not only to tourism but also to the future too (Chicago School of Architecture). Diversity is visible in many aspects of life in Chicago – ethnic origin, music and art, buildings and neighbourhoods, cultural landmarks, the economy and more. Today, that diversity and the liberal vibe is a magnet for corporate relocations, visitors, new business and leisure pursuits.
Music, dance and theatre play a large part in city life – from jazz to hip-hop, Broadway to stand-up, symphony to street art, science and education, sport for spectators and participants and in many aspects of the cultures that are evident here. Museums, conventions, art galleries and walking tours abound. It is where electric blues started, and most stars of "Saturday Night Live" got their starts at the Second City Comedy Club.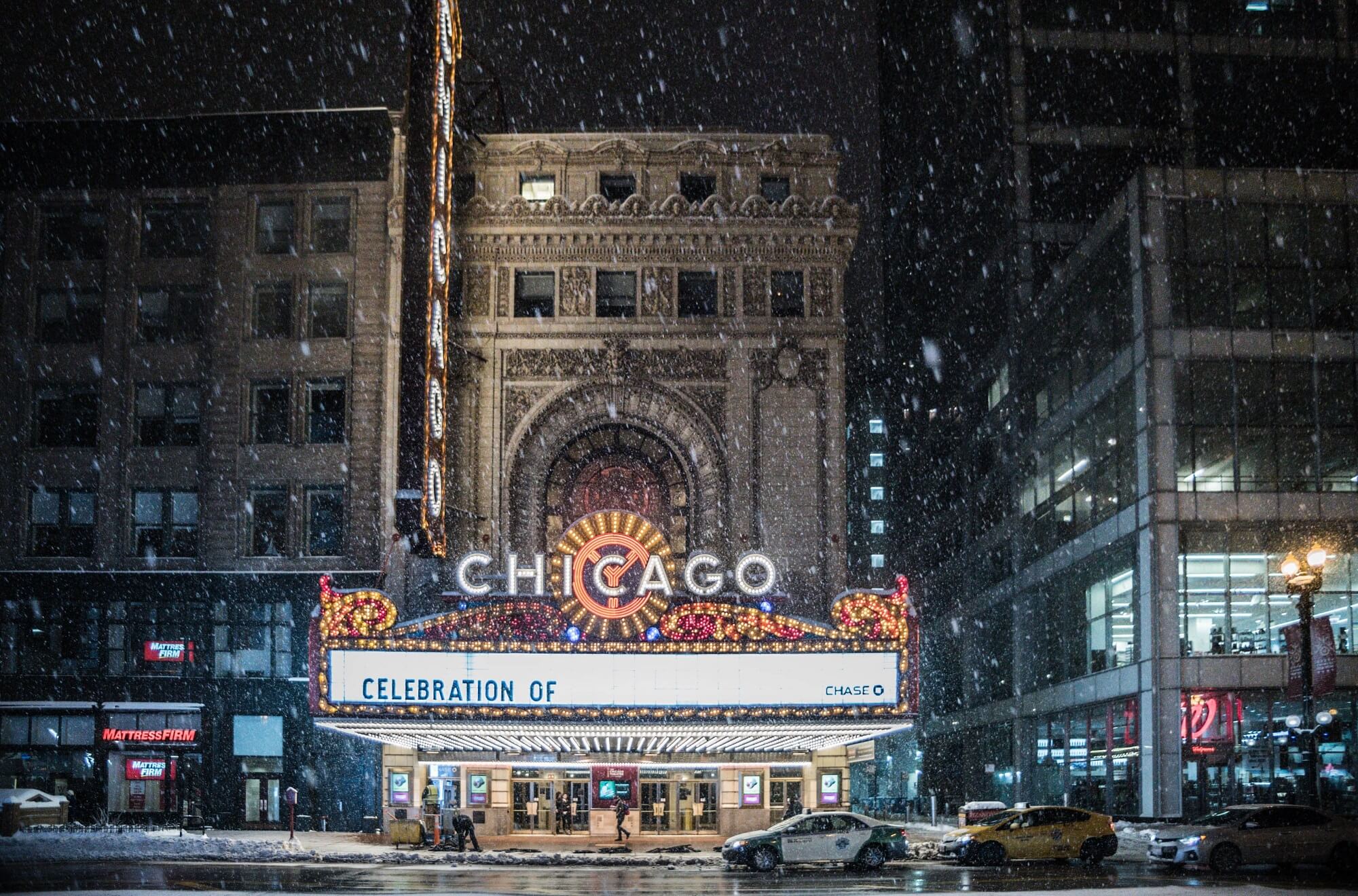 Perhaps chief amongst the landmarks goes way beyond the South Shore to many parks and gardens, monuments, clusters of entertainment variety and lifestyles. Chicago attracts the second-largest visitor numbers (behind New York), the largest number of corporate relocations, very large gatherings, festivals, parades and events – both local and city-wide.
The master planning of the grid format was established from the early formation of the city and again soon after the great fire of 1871. It has persisted as the landmass has been extended and developed for a growing population. There are three distinct 'sides'- North, South and West and within them some 77 neighbourhoods that reflect the diversity of the people and culture. It is said that Chicago is an easy walkabout place because of the pattern of roads, many with tree-lined separation of pedestrians from road traffic. Downtown, in the "Loop", is the commercial heart of the City. Statues, monuments and street art are evident throughout the City – celebrating moments, people and tastes.
Today, Chicago boasts many features of national and international acclaim, including;
All the major spectator sports are represented as well as many centres of learning, exercise and recreational activity. Cycle lanes and paths, even in the central areas, encourage healthy commuting and exercise.
The Port of Chicago has been subject to redevelopment, but the waterways are still important.
The City provides a transportation hub for the County and the State. There are several airports around the city – O'Hare being the main international airport for passenger and freight traffic. Rail is also significant for both national connectivity and light rail, serving commuters and reaching out through the metro area. Two rail lines operate night and day. Some rail lines are elevated and some have subway trains. Bus transport is also well routed (some routes operate until the early hours). Bike share schemes are here too – especially in downtown. There are also water taxis and car-sharing schemes as well as the yellow cabs, of course.
The Economy
Chicago has a balanced economy, with no one industry having more than 14% of the workforce. The sectors reflect that range too – advanced engineering (aerospace and automotive), financial services (banking, stock markets, insurance), retailing, food processing, transportation, telecoms, bio/life sciences, education, new technology, leisure, film and creative arts.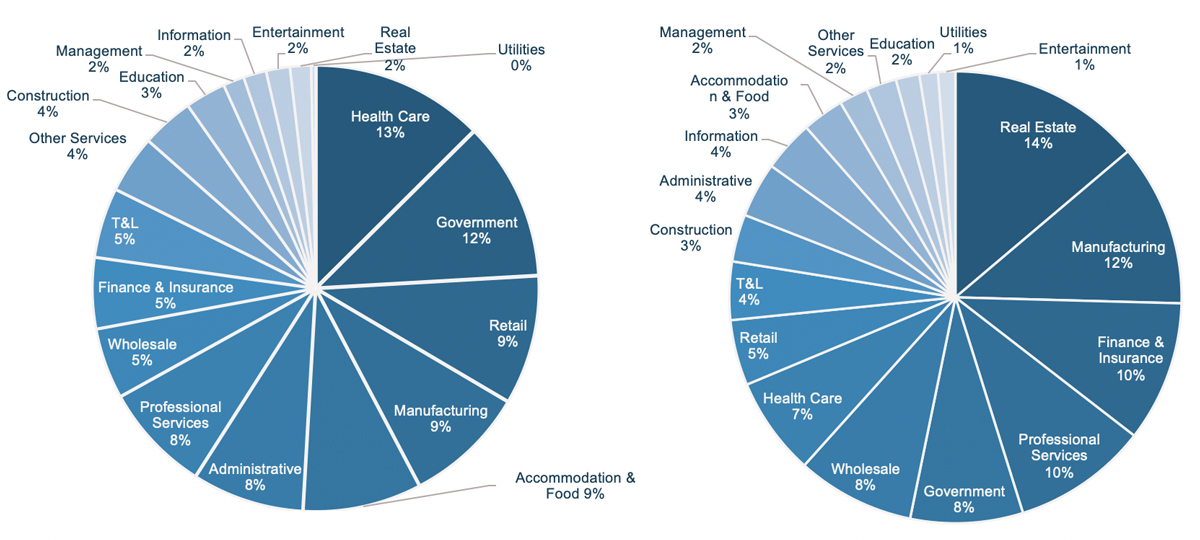 Some of the large, well-known companies that are based here include Boeing, United Continental Airlines, Abbot Laboratories, Exelon, Baxter International Inc., Archer Daniels Midland, Walgreens (Boots Alliance), Allstate Insurance, and McDonalds,
among others.
The technology clusters include water treatment sciences, advanced manufacturing (including robotics), transport and logistics systems, IT as applied to many spheres, fintech, life sciences and biotechnology, business and professional services systems and analytics, energy and cleantech, educational technologies and design/planning tech. Public services and government-related technologies are also here.
Both, the city and the metro area have extensive higher education and training colleges. The University of Chicago and Northwestern University consistently rate as two of ten top universities in the country. Within the city, there are three public universities with doctoral research specialisms and a total of 22 other universities and colleges offering bachelor and higher qualifications. Computer sciences, manufacturing training, professional programmes (accounting, management, medicine, law) and applied studies (film, arts, broadcasting, music etc) as well as many technical/trade training opportunities abound. Companies partner with these institutions at various levels and some advanced technology partnerships are flourishing (at Toyota Technological Institute and water technology solutions, for example).
The workforce of the Metropolitan Area in 2019 stood at around 4.8m and in the city, it was approximately 1,2m. The average salary here is around $70,000. An experienced IT manager could expect a salary of $116,000, a technical project manager could expect $126,000 and a software developer might expect a package in the range of $87,000 to $110,000.
Tourist (or business) visas do not permit people to work in the USA. Some other options to consider are;
You will find other useful information about living and working in the USA on the UK Gov website.
Population
The city of Chicago has around 2.7 million residents and in the metropolitan area, there are about 10m people. The city is also densely populated in much of its 227 square miles (589 sq kilometres). The population has grown by 4% annually in recent years. It is a diverse population by ethnicity, colour and creed, with African-Americans, Hispanic and white Americans in similar proportions (around 30%) plus Asian and European origin identities.
There are roughly equal proportions by gender (51% female). The median age was 35 (foreign-born somewhat older on average at 47) in 2018. 20% of the population were foreign-born.
Lifestyle
The lifestyle in Chicago is diverse. If food preferences are a guide, the Italian quarter, the Polish quarter, the Greek neighbourhood and the Chinese area are all rather special. Although restaurants for those and Vietnamese or Korean dishes can be found downtown too. All-American lifestyle is here as well of course – in the keen following for spectator sports or in mainstream music.
Recreation and leisure pursuits are also rather diverse but the public parks and long shoreline of Lake Michigan are popular in spring and summer especially. With younger people particularly, jogging, dance, walking and cycling are very much in evidence. Family fun can be seen in picnics as well as amusement areas. Boating is also much in evidence on the rivers and the lake.
There are around 1.1m households in the area and the median household income was some $57,000 in the city ($70k in the county). Nearly 50% of the households had under $50k income in 2018.
Rents (2019) are averaging $927 for a studio, $1076 for a one-bedroom apartment and $1265 for a two-bed apartment. Size, location and facilities all contribute to rental costs. An option for a single person may well be to share. Renting a house costs between $1000 and $5000 per month (the average is around $1860), depending primarily upon location and style.
To live comfortably in Chicago, an income of around $95,000 is needed (including renting) or around $85,000 as a home-owner, see below. The living wage is about $30,000 for a single person (66% of households were not married couples in 2018). 54% of households were renters. The median home value was $272,000 in 2018. Around 40% of the population have a first degree or higher qualification.
Check out these monthly living costs examples;
Monthly low-budget living cost in Chicago for a single person
Monthly budget living cost in Chicago for a single mum with two children
Health insurance in the US is a new cost to many UK staff relocating. It can cost around $800-2,000 for a single person or around $21,000 p.a. for a family of four. Employers offer many schemes with employee contributes around 31%. We recommend careful consideration as age, location and employment status can affect the level of premium.
Travel to and from work typically takes up just under an hour a day – for some two hours. However, the road layout and width of many roads, together with smart traffic management, means that for many car drivers to and from the outskirts it can be less stressful.
Economic Development
Partnership entities have been created in the City and Cook County as well as the State. There is a large 'council' of private sector leaders who oversee everything economic development in Chicago. Leadership Fellowships encourage mentoring and learning. The clean water sector has its own partnership programme (Smart Water Networks Forum) There are also initiatives in advanced metal engineering, export/global trade (Export Clinic and Global Cities Initiative), food and beverage network, urban developments, start-up support and tech focus networks. Research and development and education and training partnerships have flourished too between companies and institutions.
It is worth highlighting that Chicago is working hard to become one of the most prominent "tech hubs" in the US, which right now is very much overlooked, not just by foreign companies but also domestic companies. 
Financial services activities have been strong here for a long time – with derivatives, stocks and commodities exchanges – all keeping pace with tech and advanced systems developments.
The regional partnership promotes world-class practices and manufacturing competitiveness in particular. As a result, there have been tech parks and other physical developments to facilitate relocation and expansion.
The City Council takes a lead but has brought private sector leaders into a regional growth partnership and shares strategy development as well as performance monitoring.
The State of Illinois also connects the city, regional and Federal support and assistance programmes: tax credits, small business development, inward investment, global trade, film industry support, export awards, trade missions and sector working groups. A first-stop shop illustrates the State's efforts to reach all-comers. There are innovation centres, accelerator programmes and an Illinois Film Office.
Other Useful Resources
Here are some more resources for your convenience.