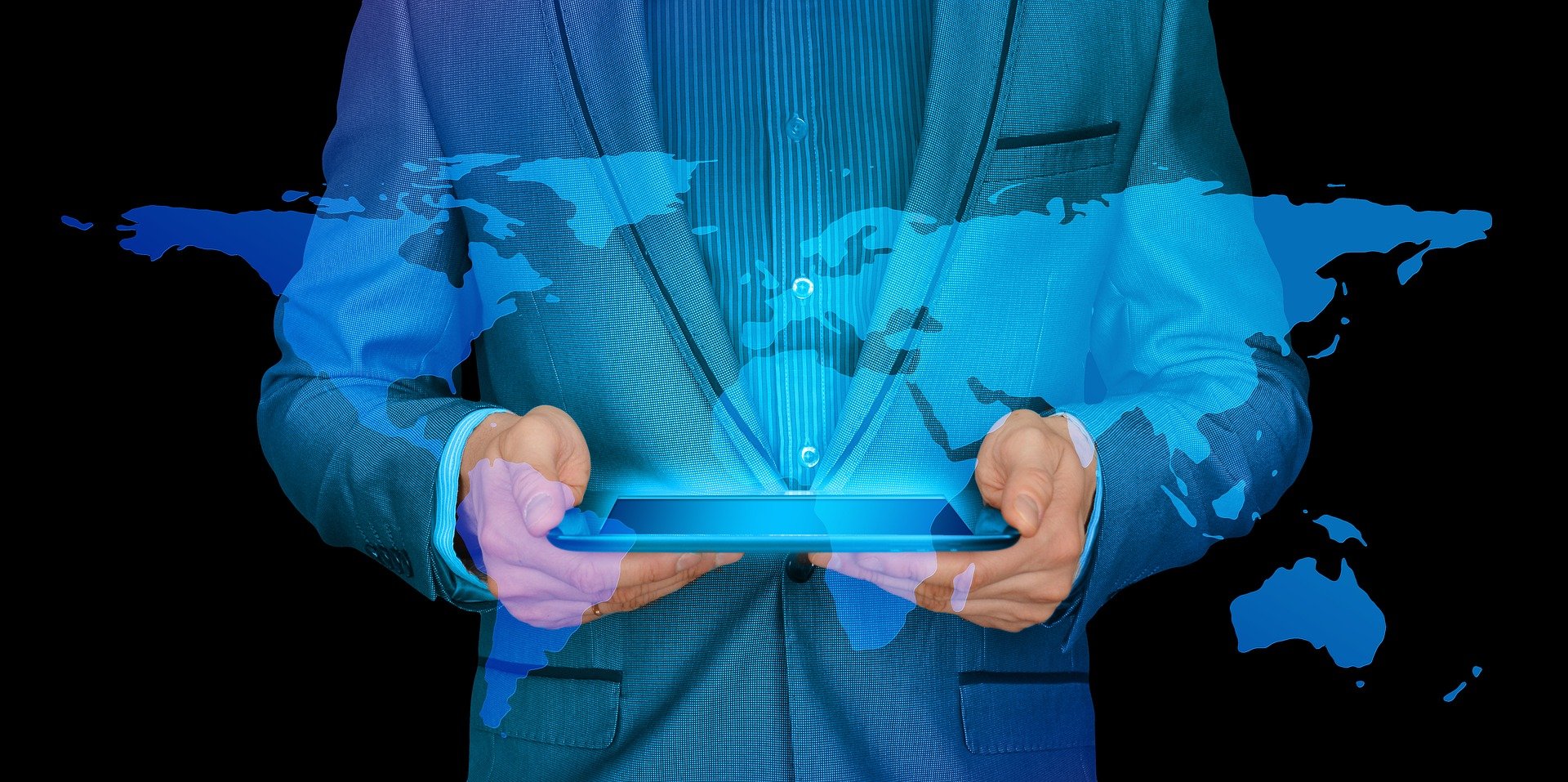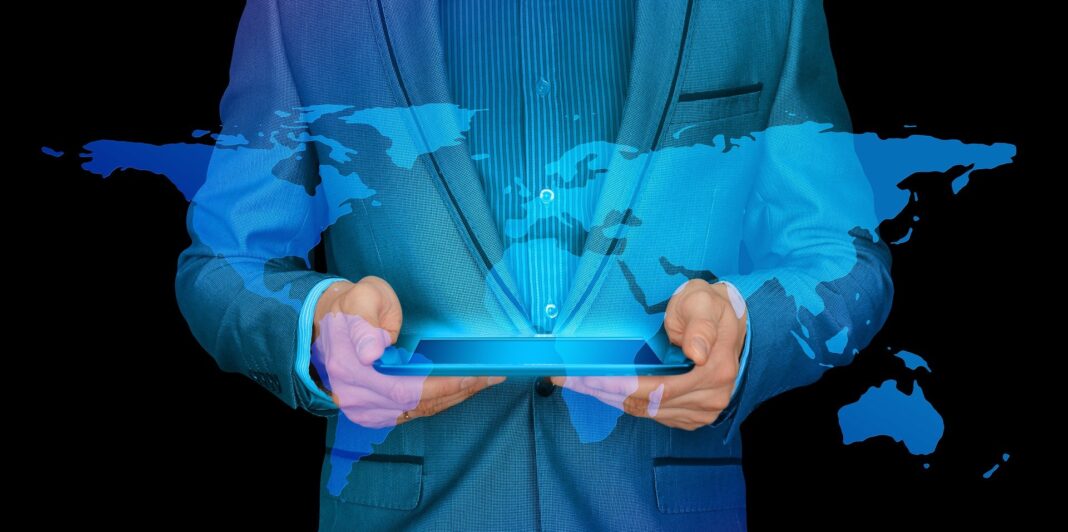 This is the first in a series of articles for economic development organisations and trade bodies interested in running virtual trade missions to support export sales and international expansion.
In this series, we will share our experiences of running virtual trade missions during the lockdown and present a blueprint for running your own VTM. You can sign up to receive the full series here.
The pandemic has both challenged and created opportunities for International Trade.
On the negative side, business travel of any scale is severely curtailed. Gone (or at least tempered) for the next few months or more, and probably well into 2022, will be events at huge conference venues, mass gatherings and any sort of traditional trade missions.
On the plus side, despite and because of travel restrictions, there are effective and still engaging ways to grow your business internationally, especially if your product or service has some sort of tech or digital element to it.
Business is booming (for some)
In fact, unlike the 2007/8 recession, technology has not tanked but triumphed. International trade has become agile, borderless, and very accessible to more and more businesses, especially if they use or sell digital or tech to enable and grow profitability.
Furthermore, the access to understand, pre-qualify and deliver solutions without necessarily being there in person, is palpable.
The team at GTM Global has some powerful evidence to demonstrate this movement of services, solutions, and business into new markets, despite lockdowns, travel bans and vacillating political decision making.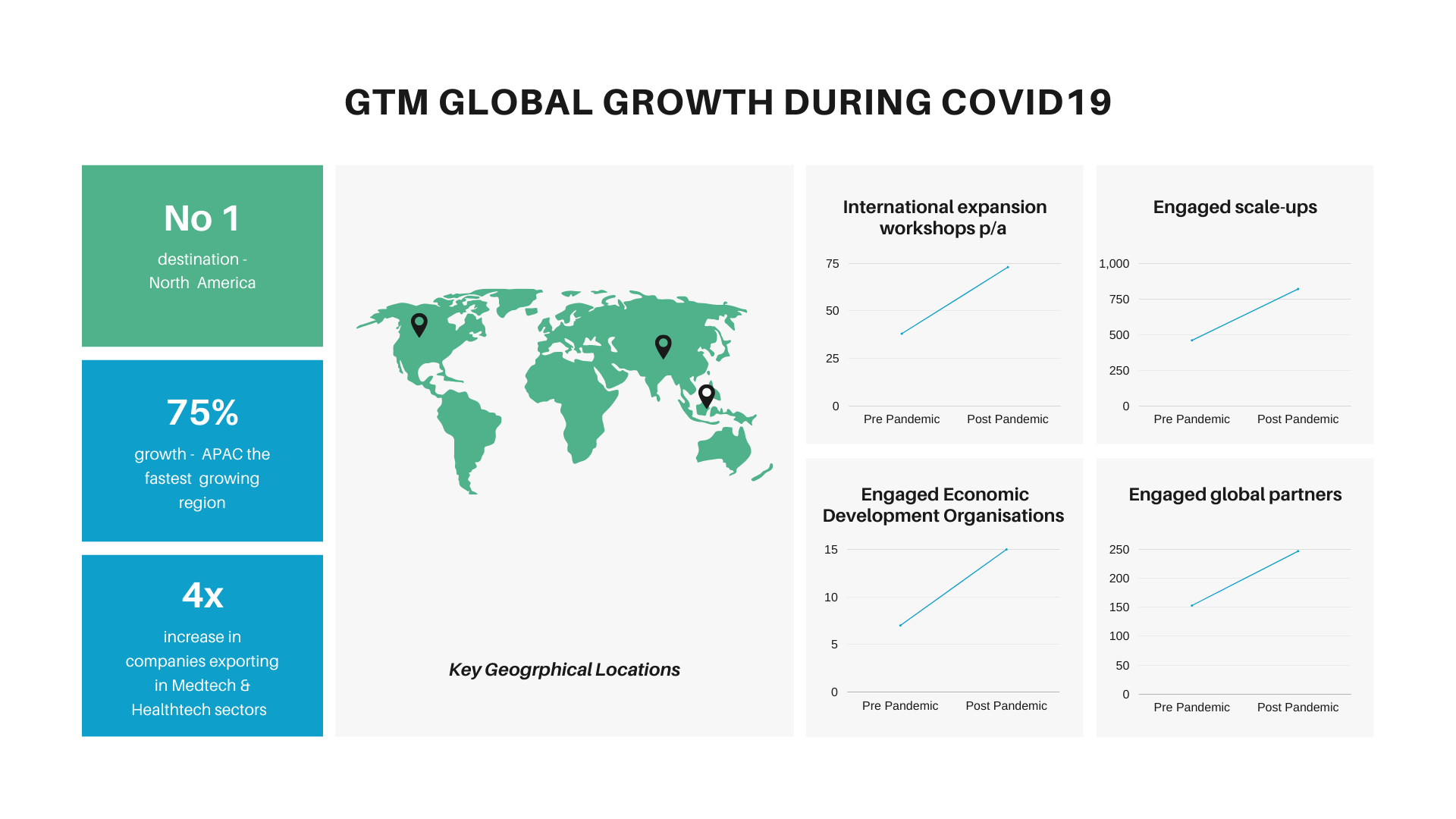 As can be seen, moving online provided the flexibility to increase the number of workshops in response to steady growth in demand, albeit from a different mix of sectors and geographies driven by Covid disruption and opportunity.
Looking back
In March of 2020, as international travel stopped for the first time, GTM Global, working closely with its partner Greater Phoenix Economic Council, shifted what was to be a physical mission for AZ SaaS brands to visit the UK, to a dedicated week of virtual webinars, workshops and 1-2-1 networking events. This took place in May 2020 as Covid cases were rocketing sky high.
As Brandon Willey, founder & CEO of Hownd explained "GTM has enabled us to extend our working day to deal with UK counterparts; has introduced us to appropriate potential supply chain and distribution partners, and most of all has helped us to make the industry friends we need to derive success from our UK market entry."
Since then, five of those SaaS brands have either landed in the UK or are developing business through UK partners and one or two are even growing across the wider EMEA region. One – our friend at Hownd – is romping ahead, leading the pack with retail digital solutions that bridge the physical/digital divide to bring new customers and additional revenue streams.
Morphing online
Pre-pandemic, GTM's business centred around physical workshops and events. Come March 2020, the pandemic had stopped us in our tracks and to deliver the Phoenix mission virtually, we had to re-invent ourselves. We were sceptical at the start – as were many people experiencing the likes of Zoom for the first time – that it would be possible to create a meaningful experience, but how wrong we turned out to be!
As co-founder Ian Collins explained, "we wanted to create an online experience as close as possible to the successful physical workshop format at the heart of the GTM Global international expansion workshop programme. For the attendees, that's about having a series of one-to-one meetings with experts in different aspects of international trade and market entry.
Physically, we were able to do that by commandeering multiple meeting rooms, moving the delegates from one room to the next according to their needs. Logistically, it's quite complex but importantly, it's a great use of the delegates' time as they get right-sized advice and guidance relevant to their specific needs."
After experimenting with what seemed like dozens of online meeting products, the business settled on Zoom, principally due to its breakout room functionality. As co-founder, Mark Stimpfig explained, "This allowed us to run concurrent, 30-minute, 1-2-1 meetings, where delegates could get advice, guidance, insights and connections, in confidence, from the comfort of their living rooms."
To maximise the use of everyone's time and to ensure delegates got the right mix of advice relevant to their needs, the GTM tech team enhanced their underlying technology platform to be able to capture and share some 40+ data points about delegates' business status and needs.
"With each delegate, we created a brief to identify their business challenges, knowledge gaps, support needs and so on. We share this in advance with the expert partners attending the event, so they can do their homework. When the meetings take place, everyone is up to speed and that makes for a much more efficient and valuable experience for all involved." commented Mark.
Benefit/cost analysis
The benefits and cost advantages of virtual versus physical should not be underestimated nor the ability to deliver an online experience in many respects on a par with the physical alternative (when using the right mix of technology and delivery formats).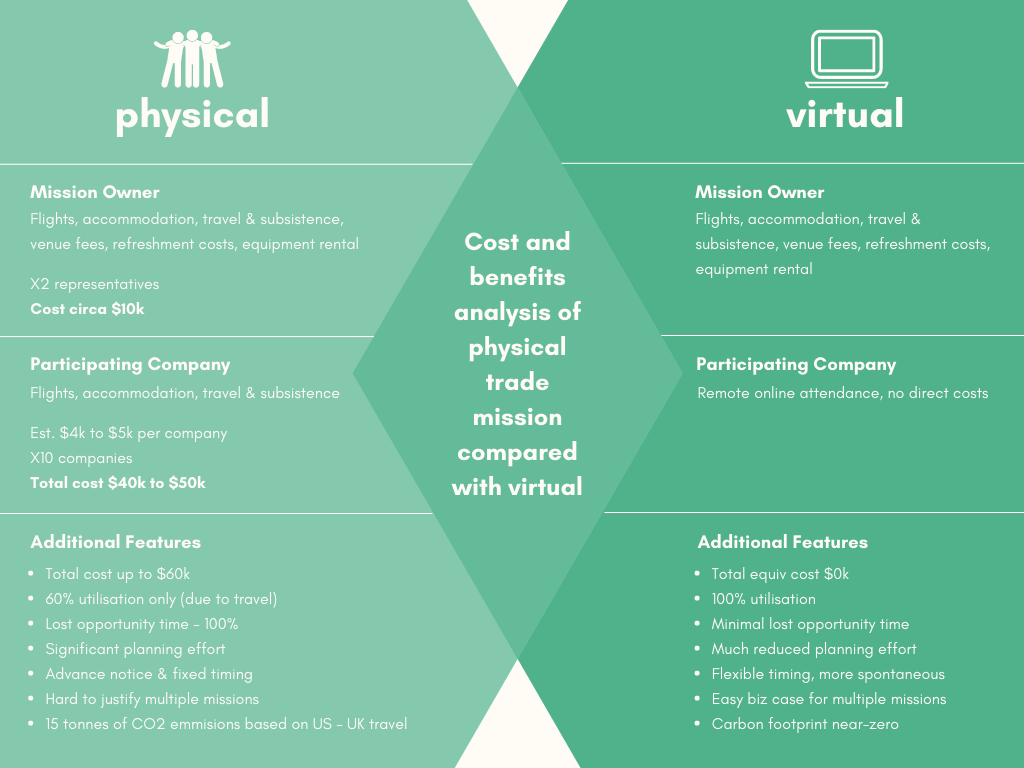 Virtual Healthtech Trade Mission
GTM worked hard during lockdown to expand its virtual mission solution/programme and in April / May 2021 completed a suite of virtual events for 16 Canadian Med-tech brands from British Columbia, Vancouver. All the delegate companies really benefited from the process, most are now actively planning to set up and growing their operations into the UK and beyond into the EU.
"The trade mission hosted by GTM was extremely valuable. We made some very strategic connections and can see ourselves launching our company in the UK in the next 30 days. We are very grateful for their insights and guidance."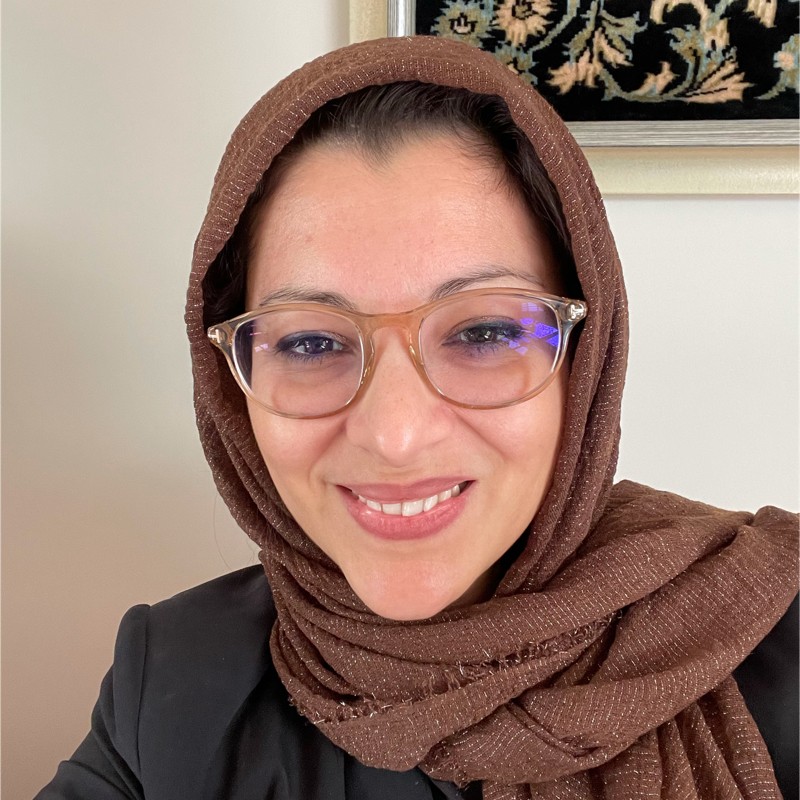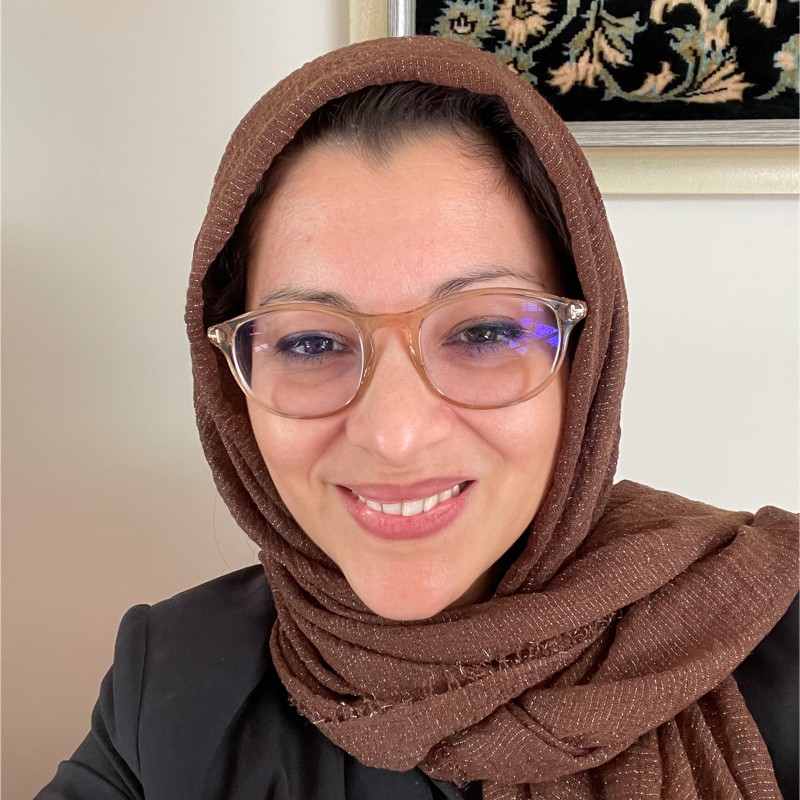 Karina Hayat
RxToMe
"GTM's virtual trade mission gave us an out of the box solution, which we were able to configure for our specific needs at a time when physical trade missions were just not possible. The results surpassed our best expectations; the value, learnings, connections, advice and guidance have helped the mission cohort de-risk their strategy and plans, accelerate their timescales and created new business opportunities."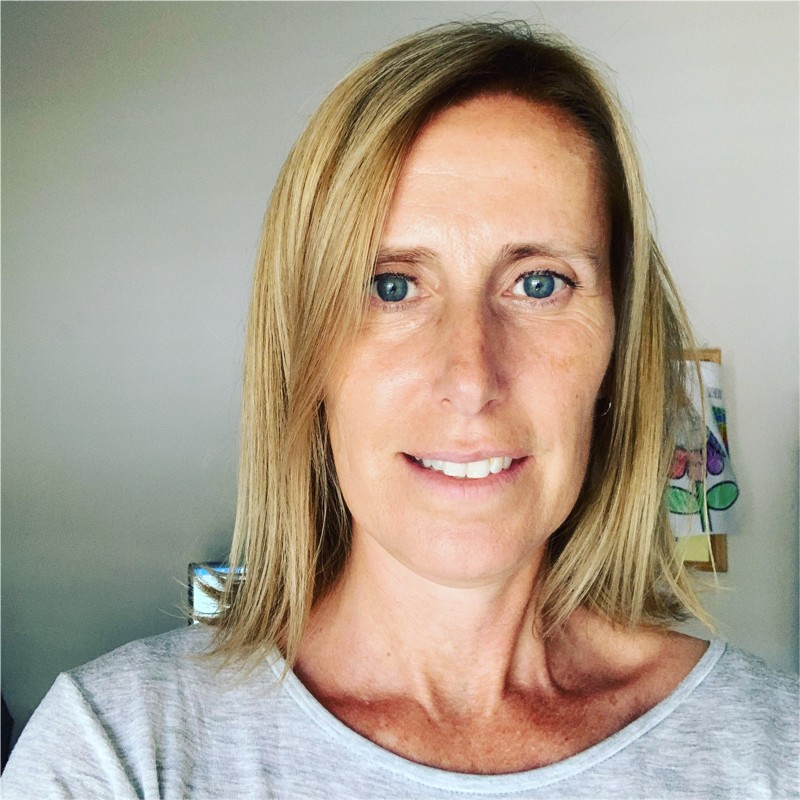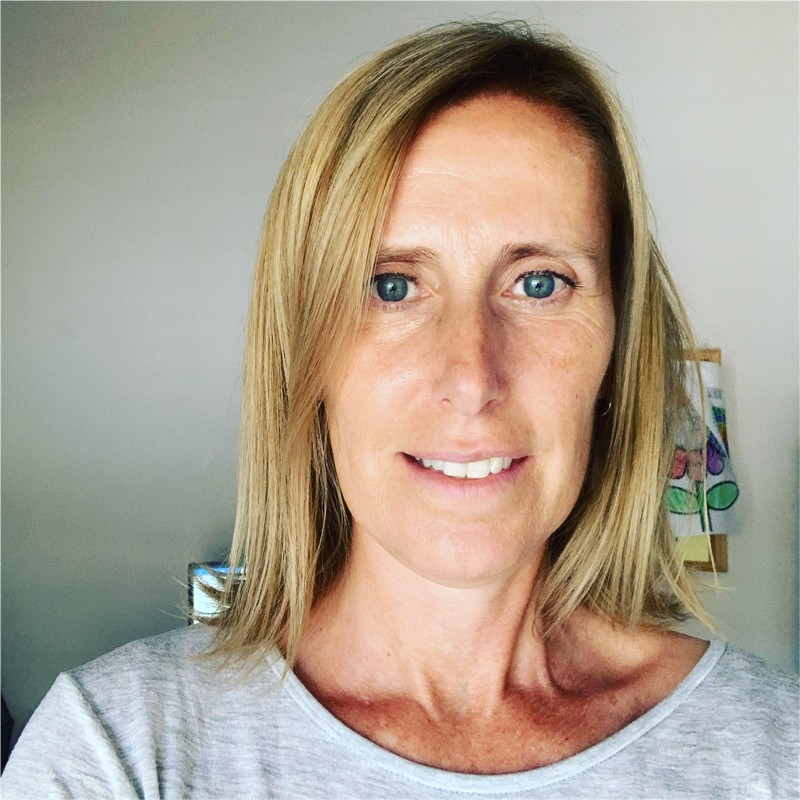 Laetitia MacDougall
British Columbia Trade and Investment
"As GenXys looks at expansion beyond Canada and the US, GTM Global was instrumental in market entry planning and validation we needed for the UK. Having a whizzy innovative product is not enough; you also need the right people, processes, and market knowledge to really make a successful entrance."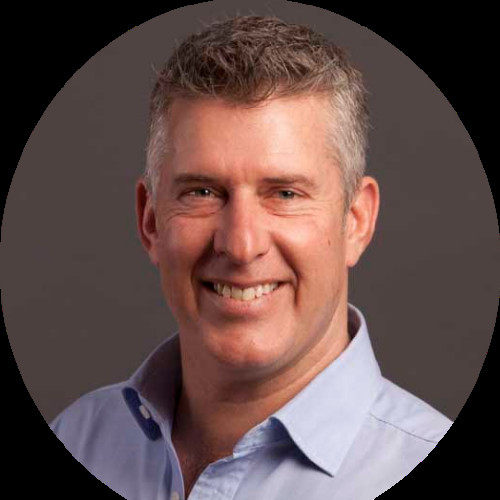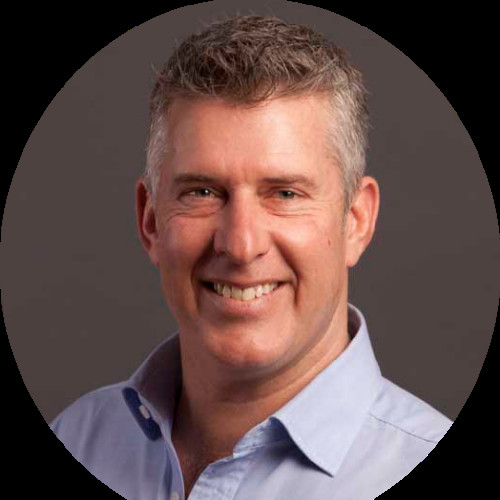 Karl Pringle
GenXys
To support the HealthTech mission, GTM invested further in its tech platform development to create a configurable, out-of-the-box, Virtual Trade Mission proposition. GTM is using the new platform for six UK in-bound missions in 2021 and we think the virtual trade mission solution and its approach will also be valuable for the economic development and FDI organisations.
The development of the GTM Virtual Trade Mission
In designing the virtual trade mission, we wanted to leverage our experience of supporting 4,500+ tech and digital scaleups with their international expansion to help mitigate the common mistakes, assumptions, risks etc that cause so many plans to fail. There were two pre-mission objectives critical to achieving this:
Readiness & Risk Mitigation
The need
We find a lot of the companies believe they are ready for international expansion, but in fact, they are really at the early stage of discovery and still developing their market-entry plans and
go-to-market strategy. Clearly, it is critical that a company adequately prepares itself if it is to reduce risk and deliver a successful outcome.
The solution
A delegate on-boarding process to capture information about the status of the business, its international expansion plans, the go to market strategy and how well it is developed, its readiness to support these plans, the gaps in knowledge, the challenges identified, the resource requirements and risks and so on.
This was achieved with the VTM through a mix of process and technology capturing comprehensive registration data, subsequently followed up with telephone interview, together delivering over 40
data points plus contextual information about plans, aspirations, strategy needs etc.
GTM Strategy
The need
Pre-mission, when we ask companies to explain their go-to-market strategy for overseas expansion, we often find that it is entirely predicated on their domestic business strategy. That's not a bad start but the nuances of a new market with new competitors, new customers, different market dynamics and so on, means there is a lot of detail to assimilate, test and validate. Understanding these factors is critical to developing a successful GTM strategy and needs doing as soon as possible.
The solution
A diagnostic framework that forces an assessment of all aspects of a market-entry plan thereby surfacing unknown unknowns, additional considerations and options, and alternative approaches to GTM strategy. The VTM diagnostic is structured into 10 business categories with 76 inflection points and is delivered as a series of short online workshops ahead of the mission itself.
Mission personalisation at a company level
The Virtual Trade Mission on-boarding data-capture and GTM strategy diagnostic are fundamental to understanding an individual company's needs in relation to pre-mission preparation and mission activity. Having such a broad and detailed understanding of their status and needs makes it possible to design a mission programme tailored to their exact needs.
In the next edition of this Virtual Trade Mission series of articles, we will move from the pre-mission stage to the mission itself: Setting the objectives and working out how to deliver on all fronts for all companies (given their disparate needs); identifying the mix of participants to deliver the objectives – customers, partners, advisors, supply chain, regulators, business networks etc, and structuring the mission in a time-zone friendly way to provide both group discovery sessions and bespoke 121 meetings.
We will share actual mission schedules and hear how it worked for delegates, for a mix of the participants and for the sponsoring economic development organisation.
To receive your access to the next edition, please register your interest below. In the meantime, be sure to check out this Virtual Trade Mission resource on the GTM Global website and if your economic development organisation is interested in finding out how to join and benefit from the GTM ecosystem visit our Trade Organisation page.